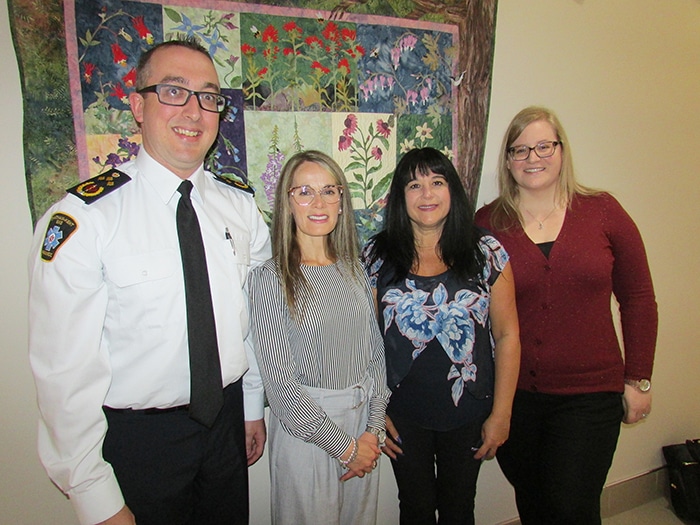 Young people and their families in Chatham-Kent will have timely access to Strongest Families Institute's (SFI) skill-based distance mental health intervention services thanks to $300,000 in funding support from Medavie.
The announcement was made June 20 at the annual general meeting of Chatham-Kent Children's Services with SFI President and CEO Dr. Patricia Pottie and Don MacLellan, General Manager of Chatham-Kent EMS/Medavie EMS.
To be offered in a two-year partnership with Chatham-Kent Children's Services, SFI will help to reduce wait times for families with children or youth impacted by concerns, including behaviour challenges (ages three-12), anxiety (ages six-17) and nighttime bedwetting (ages five-12).
SFI's bilingual programs are designed to remove barriers to care, providing help to families in the comfort and privacy of their own homes at convenient times, when and where they need it.
"We are deeply thankful to Medavie for their generous donation, to Kim Moran of CMHO for facilitating the connection to Chatham-Kent Children's Services (CKCS), and to the leaders of CKCS for embracing this partnership for their community," Pottie said in a release. "This funding will provide quick access to SFI's effective programs that promote good mental health early in life. Equipping young people and their families with life skills will significantly reduce mental health conditions now and into their future.
"Our families tell us they use these skills long after SFI programs end. This means not only are we able to have strong impacts on wellbeing quickly, we can prevent downstream problems from occurring. Together, we will provide timely access to SFI services so that children, youth and families in this community can lead happier, healthier lives."
At the meeting, Pottie used the example of a youth in New Brunswick who was moved around several foster homes and had behaviour issues. After five months of using the program, Pottie said both the foster parents and the school saw a marked improvement in his attitude towards school, his grades and overall well-being.
MacLellan, on behalf of Medavie Health Foundation, said through the Foundation, Medavie supports community-based programs aligned with adolescent mental health, post-traumatic stress, and type 2 diabetes.
Since late 2011, Medavie Health Foundation has committed more than $13.9 million to single and multi-year grant and partnership programs.
"Chatham-Kent Children's Services is excited to join this partnership, which will allow increased access to supports for children, youth and families in our community. Our integrated service model will enable families from any of our service streams to be connected to the programs and resources available through Strongest Families. We are grateful for the directed donation from Medavie to Chatham-Kent. This is a great example of how we can work with a range of partners to strengthen families for a better future," said Teri Thomas-Vanos, Executive Director of Chatham Kent Children's Services.
According to Pottie, SFI's evidenced-based programs are highly effective with a better than 85 per cent outcome success rate in overcoming presenting issues, and a less than 10 per cent attrition rate. In addition to helping children and youth effectively control their anxiety, impacts reported include improved school attendance/academic achievements, resolved bullying, improved family relationships, and reduced parental stress.