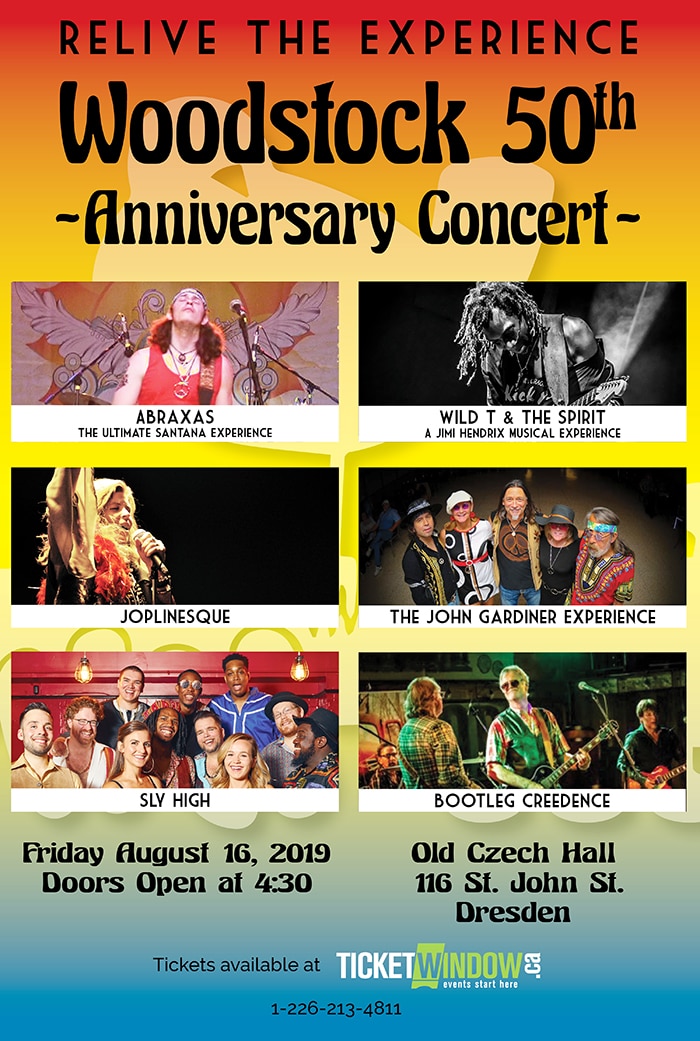 Back in 2009, Dresden's Czech Hall president Al Kominek helped organize a 40th anniversary celebration for the 1969 music festival Woodstock.
"We did it inside the hall and it was great," he recalled. "I said I couldn't wait until the 50th."
And Kominek has gone all out to deliver on the promise he made that night. On Aug. 16, one of the original dates of Woodstock, he will host a huge outdoor celebration for the Festival's 50th anniversary. He has booked some of the top Woodstock tribute bands in Canada for the occasion.
"All of the bands we booked will be performing some of the music from the Festival, and they'll do it amazingly well," Kominek said.
Sly High will take you "Higher" like Sly and the Family Stone took the Woodstock crowd.
Joplinesque will lift you out of your seats just like Janis did 50 years ago on Yasgur's Farm.
Wild T and the Spirit will make Jimi Hendrix come alive again.
There is also a Credence Clearwater Revival tribute band, and the band Abraxus, which will perform Santana material.
The John Gardiner Experience, a local 1960s hippie tribute band, will open the show, which will run from 4:30 p.m. to 1 a.m.
"We really just want to try to create the aura of Woodstock," Kominek said. "It should be a great day of reminiscences to the power of this great '60's music. We'll be going full out to try to create a really magical event."
The event is operating as a fundraiser for the Czech Hall, which is a meeting and events venue in Dresden. The Hall is in need of insulation and some new steel cladding for outside walls.
"It's a fairly expensive job," Kominek said. "It's a little more money than we've got on hand, so we're hoping people will support us and help make it happen."
The event will be licensed; there will be food concessions, including Rick Tanner's pulled pork.
Tickets are available at ticketwindow.ca or by calling Al or Marion at 519-683-2097 or through the Czech Hall Facebook page. A sell-out is expected so get your tickets early.
Comments
comments
« Misselbrook to run 'Burg chamber A weekend to remember for C-K »