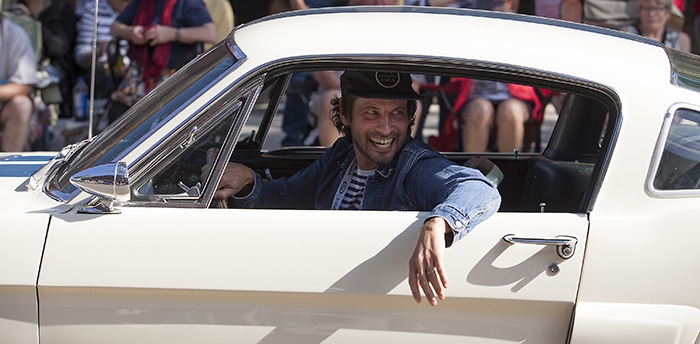 Was that a great weekend or what, Chatham-Kent?
Sorry, that was a rhetorical question.
Wow.
Thank you, RM Sotheby's, the Historic Downtown BIA, the organizers of the Threshing Festival, and everything else that took place.
Yes, downtown Chatham was in the spotlight, and with good reason. It all began at 5 p.m. with the RM parade to kick off the RM 40th/RetroFest weekend.
Mechanical elephants from 80 years ago? Check.
Kid Rock riding with Rob Myers? Check.
By the way, that was Kid Rock's ride they were in.
And did you notice Sam Roberts behind the wheel of a 1966 Mustang? Yep, the Canadian rocker who played in Tecumseh Park that night was in the parade too.
Nice work, Fannie Vavoulis! Fannie was the chair of the organizing committee. She set up the media interviews with Sam. Those took place on June 17, just four days before the festivities.
When I interviewed Sam, as classic cars came up in conversation, he mentioned when he signed his first record deal, the first thing he did was purchase a 1966 Mustang GT. He loved the car, but since sold it off as he has three kids now.
I mentioned the fact to Fannie in a quick e-mail. She thought it would be cool to offer him a chance to drive one again.
Fannie got to work with her RM contacts. In no time, she'd found a Mustang. After reaching out to Sam's PR folks, the car had a driver.
And anyone who saw Sam Friday in the parade could not help but see a huge smile on his face.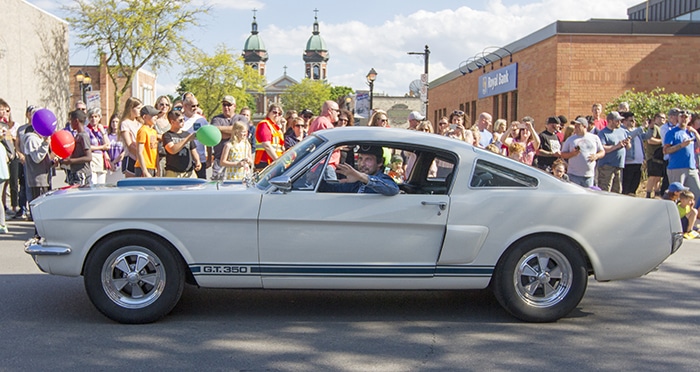 Then again, there were smiles all around this past weekend. The weather was perfect. The parades and displays were amazing.
We caught the RM parade near the Capitol Theatre/Frendz area and headed to Indian Creek Road to catch the Classic Car Cruise.
The RM parade delivered some wild rides, including a chicken truck, Kid Rock's Pontiac Bonneville, which was tricked out by the late Nudie Cohn, a huge Oscar the Grouch float, the mechanical elephants, a giant shopping cart, three Batmobiles and even a jet engine.
Friends Pete and Arlene were with us to enjoy the spectacle.
When that parade ended, we accepted an invite from other friends Charlene and Eggless Chad to catch the Classic Car Cruise as it went along Indian Creek Road near their house.
Great choice as we relaxed in the shade and watched as hundreds of vehicles went by.
I loved the parade and the cruise, which featured two Deloreans, at least one Ferrari, tons of vintage Camaros, Mustangs, Firebirds, Triumphs, and some beautiful 1950s iron, as well as some cars and trucks that were much older than that. There were also custom-made rides.
Just a great selection and showcase.
Proud pop
As a parent, you try to instill the proper values in your kid, and reinforce them time and time again.
Be considerate of others, be kind, polite, helpful, supportive.
You think you've done a decent job, but then you get a note from another parent.
For me, it arrived via e-mail Sunday night from the parents of a talented younger dancer at Brenna's studio.
I've held out mentioning the studio, but now that Brenna is hanging up her ballet slippers, jazz shoes, hip-hop sneakers and half soles, I can say she spent 10 years dancing at Alexandria's Dance Studio, making memories and friends for life.
And she announced after this year's final recital that she will not be returning for next year, as she wants to focus on her studies in Grade 12.
When one younger dancer found out, she burst into tears that night. I believe she's looked up to Brenna for some time.
And then I received the aforementioned e-mail.
The parents floored me with what they said about our daughter.
"To say we will miss her at ADS is an understatement. We have always admired her quiet elegance. We love watching her dance. She's a great example to the younger girls … Just a good kid with tons of integrity. It will serve her well in everything she does. It's been a pleasure knowing her and we look forward to hearing about her accomplishments. Take care, Brenna. Respect ❤."
Yeah, I was left speechless, and very proud.
Heck, at times I take my kid for granted, expect more from her, forgetting that she is just 17. I treat her like an adult in many ways, especially in terms of expectations. That's just unfair.
But she is so mature for her age.
I'd like to think I was mature, kind, compassionate and polite as a teenager. But that probably wasn't the case.
I remember being a brat as a young child. And I mean a brat.
My teen years delivered a great deal of independence, which came with a lack of parental guidance.
As a parent, I make mistakes with Brenna pretty much on a daily basis. I revert to my mother's reactive style of parenting rather than proactive way too often. Thankfully, Brenna also has Mary Beth as a parent too. She is strong where I am weak and delivers more consistent parenting.
The combo certainly appears to be paying off for the girl.