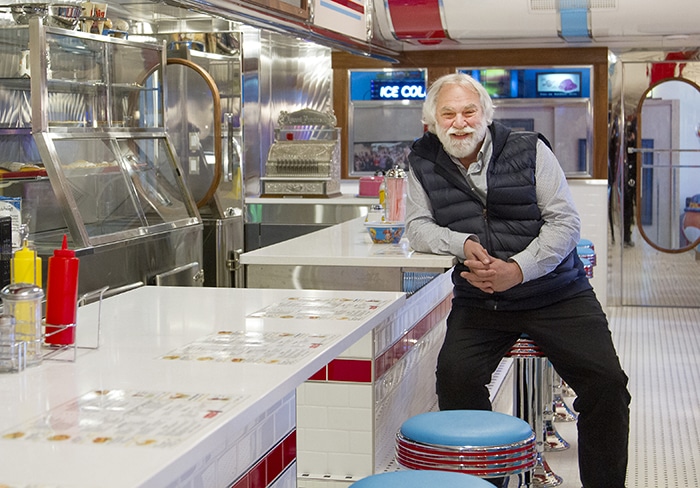 Rob Myers looks back on 40 years of car restoration with a smile. This is the man who basically started with nothing more than a dream, and has built up auto restoration and auction businesses that do more than half a billion dollars a year in sales.
Myers grew up with an interest in anything with wheels and a motor. In 1976, he essentially flipped the ignition to start on his ride into entrepreneurship.
"I did it out of my pants pocket," he said. "I started painting motorcycles. I'm a bit of an artist."
He expanded to a one-car garage shortly thereafter.
"I'd buy the odd bit of junk, take it and fix it," Myers said.
In 1979, he opened a dedicated restoration and sales facility, RM Auto Restoration.
He recalled one of his first "big" jobs, restoring, painting and delivering a Model A Ford sedan to a local client, and making about $20,000 on it.
Dan Warrener and Mike Fairbairn came on board as business partners in the mid-1980s.
"They certainly helped build the company," Myers said.
RM Classic Cars soon became the biggest supplier of vintage vehicles for sale by the auto auction house Barrett-Jackson, Myers said.
But after seeing how much others were making in selling cars RM had restored, the company expanded to RM Classic Car Productions and got into the auction side of the business in the early 1990s.
Sotheby's, a global auction giant, came on board in 2015, further expanding the company's reach around the world.
Today, RM Sotheby's has auctions in multiple U.S. locations, as well as sites in Europe, and this year, the Middle East. It has offices in London, Italy, Florida, Los Angeles, Boston and Detroit.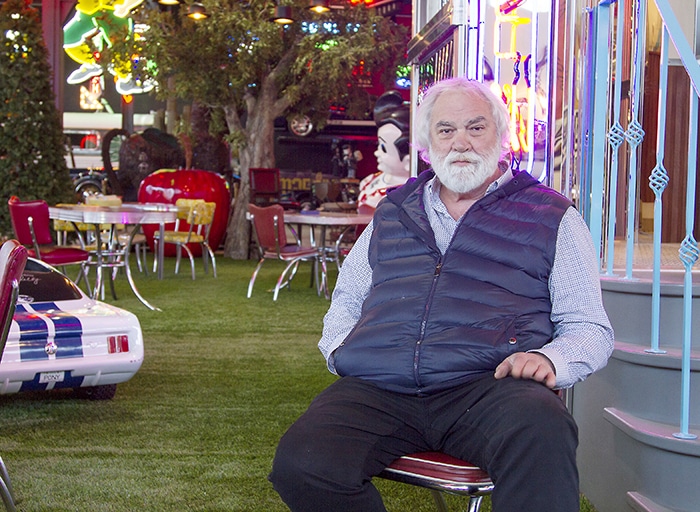 RM Sotheby's sells hundreds of cars at auction each year, including some high-priced and rare wonders.
A 1962 Ferrari 250 GTO sold at Monterey last year by RM Sotheby's fetched $48.4 million, at the time the most valuable car ever sold at auction.
The company also held top sales records for Porsche, Aston Martin and Mercedes-Benz last year.
Not bad for a company led by a high school dropout from Chatham.
Through all the rebuilds and restoration efforts, Myers and his team have worked on a huge variety of vehicles, from American classics to European sports cars. He said he does not have a favourite vehicle, but two appear to be close to his heart.
One is his 1957 red Mercedes-Benz 300 Roadster. He admits he drives it everywhere.
"I love that. I drive it all the time. It's one of my favourites," he said "I drove it to California last fall, my wife and it. It's kind of fun to pull into some hotels. Everybody's there in their new Rolls Royces and new Lamborghinis and I pull in with that old thing and know it's worth more than any of their cars."
Another car near and dear to Myers is a red 1963 Shelby 289 Cobra. It sits in his office/man cave these days, and you can see where some paint is flaking off the front end.
"That's what I like about it. It's never had paint. It's original paint," he said. "I love original things."
The car is all original save for some upholstery work, he said.
The car's designer, Carroll Shelby, who passed away in 2012, was a close friend.
"I sold his very first Cobra for $15 million (in 2016 at Pebble Beach)," Myers said.
He also named his son Shelby after the auto legend.
Despite his globetrotting, Myers still and has always called Chatham-Kent home.
"I can't move my employees," he said. "I'm here. We have employees who have been with me for years and years. You can't move your employees."
Being "here" has led to Myers expanding his business assets to help cater to clients, while at the same time helping the community and feeding a "hobby."
He owns Retro Suites Hotel, a perennial award-winning boutique hotel in the heart of Chatham, with no two rooms alike, and some very quirky and unique decor. That includes paintings by the Rolling Stones' Ronnie Wood and numerous auto-themed sculptures.
Ever wonder where the two giant nutcrackers from FAO Schwarz in New York ended up? In Myers' hotel lobby.
"My hotel is my hobby," he said. "I have fixed up a lot of old buildings downtown. I didn't do it to make money. I like to collect junk."
Myers admits it's a bit eccentric.
"And I also needed a place for all my clients to stay."
In fact, it was a visit from a client that started him down his path in the hospitality industry.
"I had this super rich guy from California come here years ago and I was restoring his car for him that I knew would win Pebble Beach (Concours D'Elegance) in 2001. He and his wife came to Chatham and I had to put him in one of the other hotels here. They didn't mind, but I thought, 'How nice would it be if I could host them in a really nice place?' That was one of my reasons for building it," he said.
Retro Suites doesn't just serve Myer's clients, but rather it's a tourist destination as illustrated by its many awards with Trip Advisor, and it hosts many a local event. This year, Myers said it will hold 50 wedding receptions.
He shot down rumours that the likes of Jay Leno and Nicholas Cage have stayed at the Retro Suites over the years, but did admit his buddy Bob Ritchie – Kid Rock – has enjoyed the accommodations there.
As for whether we'll see Kid Rock this weekend, Myers just grins.
"Imagine Bob riding a mechanical elephant at the front of Friday's parade," he said. "That would be a sight."
As for the weekend's festivities, Myers has preached "chaos." He wants the downtown packed with classic cars and thousands of spectators.
He hopes it will be one heck of a bash for local residents, RM staff and customers.
"I'm 40 years in business. I've had some of the same clients since the beginning. Some have never been to Chatham. Why not invite some of those VIPs here?" Myers said.
Looking back, he admits it's been a heck of a crazy ride doing what he loves.
"I've been very fortunate to be allowed to do this. Every day I wake up and go, 'Holy (expletive deleted), how did this happen?'"