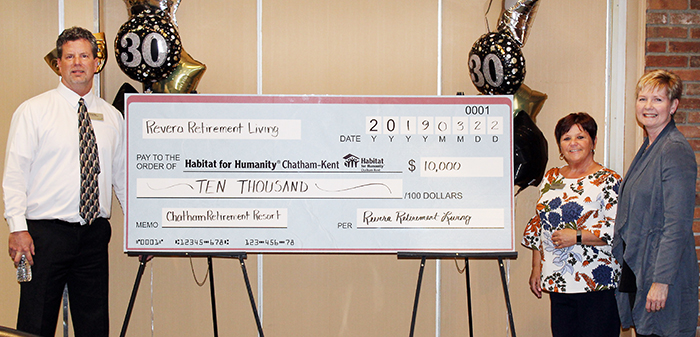 As Habitat for Humanity Chatham-Kent puts plans in place to start its 2019 build, which represents the sixth home built for the organization, it has received a $10,000 boost to their program.
The local affiliate received a $10,000 grant from Revera Retirement Living to support their work in the community.
The national partnership has Revera locations working with Habitat affiliates across Canada. The Revera location in Chatham, Revera Chatham Retirement Resort, has been partnering with Habitat for Humanity Chatham-Kent for over a year now through various fundraisers and events.
Along with supporting Habitat's trivia nights and golf tournament, Revera hosted a Shania Twain tribute concert, raising funds to help Habitat for Humanity Chatham-Kent.
"Our partnership with Revera Retirement Living is a fairly new one that we have enjoyed developing over the last year or so. We are looking forward to the possibility of having some of the Revera team members work with us on our Woods Street build in Chatham this summer," said Nancy McDowell, Executive Director of Habitat for Humanity Chatham-Kent, in a media release.
"Revera is proud to partner with Habitat for Humanity, not just locally with the Chatham-Kent location, but also on a national basis" said Doug Hay, Executive Director of Revera Chatham Retirement Resort. "Revera offers your kind of place for retirement living, serves your kind of cuisine, and offers your kind of recreation and wellness. Habitat for Humanity is our natural partner in serving communities across Canada."
Habitat for Humanity is committed to the community by not only building homes that are sold to qualifying low-income families, but they also run the ReStore which receives donations of new and gently used furniture, appliances and building materials that are sold to the public at up to 75 per cent off the retail price. Habitat relies on the generosity of the community through their donations as well as through volunteering the many hours required to run the ReStore and build programs.
Habitat is currently looking for support for their 2019 build in Chatham. If you wish to become involved in either the build or the ReStore through volunteering or donating, you can contact the organization at 519-352-4440.
Comments
comments