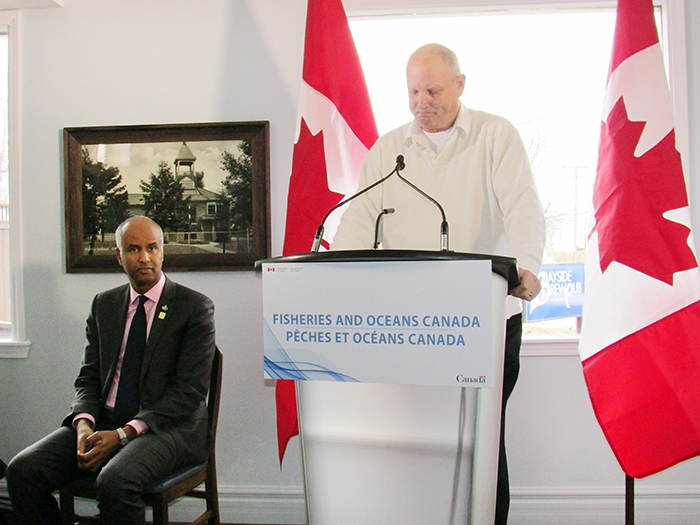 The commercial fishing docks at Erieau are getting a much-needed upgrade thanks to federal funding announced Feb. 14 at Bayside Brew Pub.
Minister of Immigration, Refugees and Citizenship Ahmed Hussen, on behalf of the Minister of Fisheries, Oceans and the Canadian Coast Guard, said the Government of Canada is investing more than $2.76 million for infrastructure improvements at three Ontario small craft harbours in the communities of Erieau, Wheatley, and the Town of Lakeshore.
"We investing $1.66 million in the Rondeau (Erieau) Harbour, a large commercial fishing harbour on Lake Erie that is the homeport to dozens of local and transient commercial fishing vessels. The project will replace the existing timber piles with steel pipe piles of four jetties and replace the concrete decking on six jetties. The project was awarded to East Elgin Concrete Forming. Work started in the fall of 2018 and will be completed by March 2019," Hussen said.
Erieau is a large class "A" commercial fishing harbour that is managed by the Erieau Harbour Authority. This harbour is homeport to approximately 13 to 17 commercial fishing vessels and eight to 12 transient commercial fishing vessels. Annual landings for Rondeau are approximately 3,995 tonnes and have a value of approximately $5.9 million.
Erieau Harbour Master Jeff Vidler said he is very happy with the funding announcement, as are the fishermen that use the docks. He said the upgrade will make it safer for the fishermen to transfer their catch and for day-to-day use of the docks.
Wheatley Harbour, the largest freshwater fishing harbour in the world and largest commercial fishing harbour in the Central and Arctic Region, will receive $244,000 in funding to rehabilitate a timber pile wall and a new asphalt deck, further preventing erosion damage to the newly rehabilitated east wall. The project is expected to start this month.
Hussen said another significant investment valued at $860,000 is directed towards the reconstruction project at the Thames River facility. The facility (known locally as the Lighthouse Cove Pier) is a recreational harbour located at the mouth of the Thames River at Lake St. Clair in the Town of Lakeshore.
The work will include the rehabilitation of sections of timber crib wall structures with new steel sheet piles walls, concrete capping, boat launch ramp repairs and a new asphalt parking lot. Construction is underway and will be completed by the end of May Once the repair work has been completed, Small Craft Harbours will transfer ownership of the pier to the Town of Lakeshore. The mandate of the Small Craft Harbours Program is to keep harbours critical to the commercial fishing industry open and in good repair. The program also seeks to transfer ownership of recreational or low-activity harbours across Canada to interested third parties who are in the best position to operate them effectively and respond to the needs of the local residents and economy.