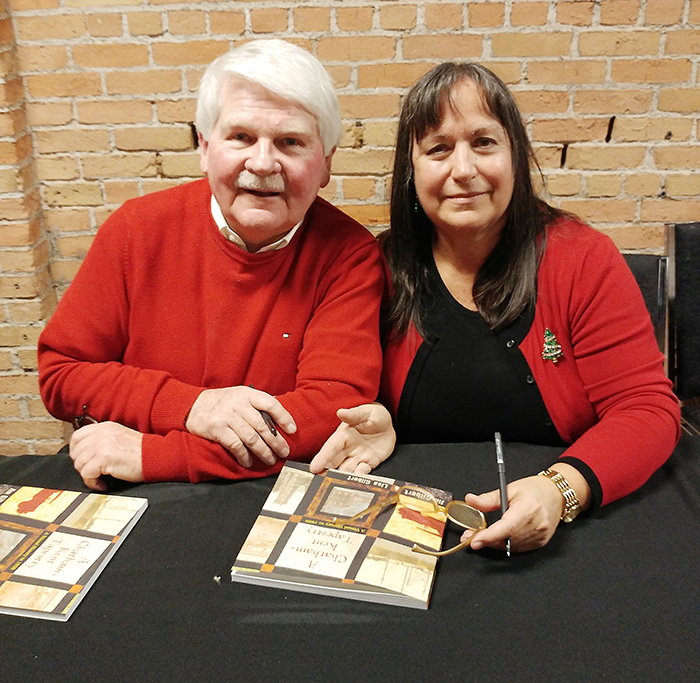 Local historians and authors Jim and Lisa Gilbert weave together stories with words, so it seems only fitting that the title of their latest book is "A Chatham-Kent Tapestry."
Even though "Chatham-Kent" is in the title, this book's focus predates amalgamation by decades, even centuries. It examines the history of our area, largely with photographs, up to 1950.
"We just find that it's important for people in Chatham-Kent to understand where they came from and just how exciting, interesting and dynamic our local history is," Jim Gilbert said.
He added a view of the past offers guidance into the future.
"If they have an appreciation of their past, I think they feel better about themselves and their community," he said of local residents. "It ends up being better for the future for everybody."
Gilbert said he and his wife opted to let the pictures tell most of the tale for a reason.
"People have a shorter attention span. They won't sit down and read a lot of stuff to get a tidbit of information," he explained. "They want pictures. If you can provide a picture that captures their attention and provide some information with it, they will have a better understanding of Chatham-Kent."
This is the fifth book that the Gilberts, either together or separately, have had published.
"We have a passion for local people and places. We find it very interesting," Gilbert said.
Gilbert said as they gathered information for the book, he and his wife gained new knowledge.
"We've been here all our lives. Doing this book, we found out so many things we didn't know," he said. "We never said we are THE local experts on local history. We are excited to find out new things."
The Gilberts spent time in each community within Chatham-Kent conducting research and speaking with local community experts.
"It really allowed us to find out more about our communities that we didn't know," he said.
What you won't read in "A Chatham-Kent Tapestry" are the big news items, events that everyone has already heard about from other sources.
"We focused on the small facts that are 'ah-hah" moments. We were trying to flesh out Chatham-Kent's personality. There is a lot of history that we didn't know, and a lot of wonderful people."
Gilbert said the book should provide new insight into the evolution of our municipality and the success stories that have come from it.
"I feel people of C-K put themselves down too much. We tend to criticize ourselves too much," he said. "There are things people have done in our community; things that have happened; people born and raised here who went on to do bigger and better things."
People living here seem to forget just how big our municipality is geographically.
"Chatham-Kent is the size of a small European country. Trying to get your head around its history is not an easy thing to do," Gilbert said.
He said knowing your local history opens the door to comprehending global history.
"If you understand what went on in your own community, you have a greater respect for understanding world history," he said. "Everybody's world history is also somebody's local history."
"A Chatham-Kent Tapestry" is published by Biblioasis out of Windsor.
Comments
comments