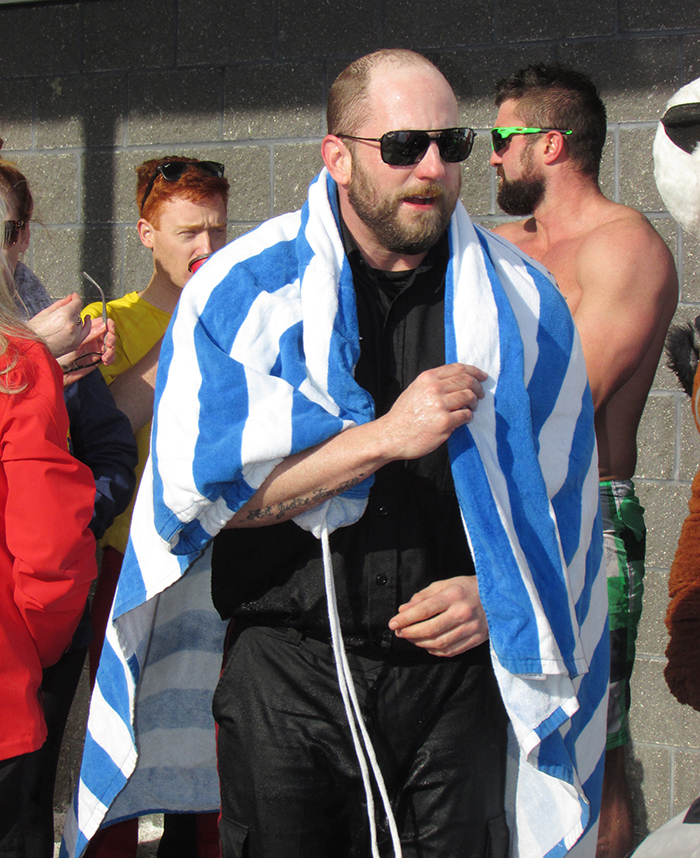 It seems some people will do anything for money – money to help others, that is.
For members of the Chatham-Kent Police Service, that includes taking a very chilly leap into icy waters.
The Chatham-Kent Police Service Polar Plunge returns for a second year at St. Clair College. Fifty participants raised more than $14,000 last year for Special Olympics Ontario, and organizer Const. Jason Herder hopes to top the $20,000 mark this time around.
On. Jan. 19, 2019, police officers, support staff, firefighters, EMS personnel, students and any interested members of the public can take the frosty dip.
In fact, you can choose your dip time too. Herder said they've expanded the event this time around and there are plunges at 2 p.m. and 6 p.m. In between, there will be a charity barbecue as well.
"One of the things we learned coming out of our first plunge is we wanted to expand it. The school wanted more involvement too," he said. "We got more creative and made ours a little more unique and added the night plunge."
When participants register online, they can choose when they'd like to take the dip.
As for the barbecue in between, Herder said it expands their fundraising possibilities.
"It's another way to raise funds for Special Olympics. For those who may be too chicken to plunge, we can raise funds this way," he joked.
Herder, who went in twice last year – in uniform – said if they reach their $20,000 target, he'd go in three times this year.
He thinks there is a good chance he'll have to make the trifecta of plunges.
"We had excellent community support last year. It's already starting to come in this year," Herder said. "It's coming together quickly and is growing rapidly."
Retired police officer Mike Currie led the way in fundraising last year, Herder said, but Dep. Chief Jeff Littlewood was close behind.
Littlewood and Chief Gary Conn have indicated they are taking part again this year.
They aren't alone, as a high-profile former officer is gearing up to go again, and hopes to take 17 of her newest friends with her.
"Councillor (Amy) Finn will be jumping," Herder said. "She's issued a challenge to other councillors and the mayor."