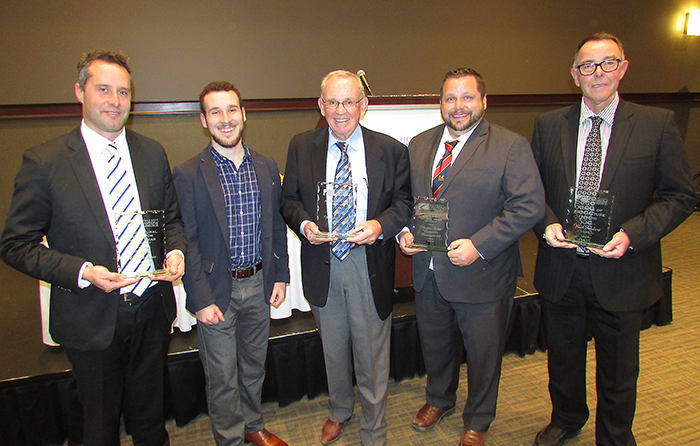 Local agricultural experts received accolades on Nov. 21 at the 72nd annual Rural-Urban Dinner put on by the Chatham-Kent Chamber of commerce.
Robert Kerr received the agriculturalist of the year honour, while Joseph Grootenboer earned ag innovator (individual) accolades and Veritas Farm Business Management took the ag innovator (business) award. Ron Faubert was named friend of agriculture, and 4-H members of the year were Adam Reid and Emma Richards.
Adrian Van Dyck, emcee of the event, credited the judging panel with selecting very qualified recipients.
He added farmers have evolved with the changing technology. Today, farmers utilize farm equipment that is essentially driven by GPS systems. While in those machines, the farmers also use social media to check in with one another.
Kerr, who just enjoyed his 48th crop year, said he has seen a great deal of change in the industry over the years.
"Every year is different. We've made tremendous progress. We now have precision farming – the perfect spacing of seed, autopilot tractors and down-pressure on planting that allows you to get uniform depth," he said.
He added he appreciates being recognized with the top honour at the Rural Urban Dinner.
"It's a great honour to be recognized," he said.
Faubert, a farmer, said the friends of agriculture award recognizes individuals and industries.
"I've worked on various boards, and been with a lot of different projects," he said. "I'm humbled. I've worked with a lot of great people in agriculture."
Grootenboer, owner of River Bell Market Garden in Dresden, said he was happy to receive the recognition as an ag innovator.
"Our business ties into Chatham-Kent with all our customers," he said. "We are connected with sales right across Chatham-Kent."
Aaron Breimer, representing Veritas, said the company being named an ag innovator is amazing. For him, being honoured at the Rural Urban Dinner is only fitting, he said.
"I'm an import to Chatham-Kent. One of my first events was the Rural Urban Dinner in 2001," he said. "I'm part of a great team. It's amazing to be recognized."
Dylan Sher, producer of the agri-documentary Before the Plate that featured several local farm organizations, was the guest speaker at the dinner.
He's a University of Guelph student who hails from Toronto. He befriended Chatham-Kent students at the university and took an interest in tracking how food goes from the farmers' fields to our dinner plates.
Sher said Chatham-Kent is rather unique in that there is such mix of rural and urban elements.
"I share my experience on what the urban perspective is. Tonight, they brought the two parts together," he said. "It's a bit unique here as ag is very close to the city. It's a crazy opportunity to live and be around it."