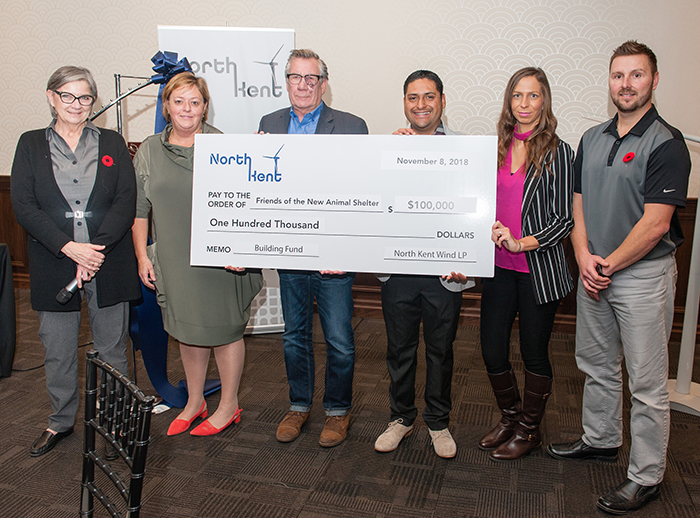 The North Kent Wind Project officially opened recently and marked the occasion with a $100,000 donation to the Friends of the New Animal Shelter (FONAS) building fund.
More than 60 people, including officials and landowners gathered, to mark the opening of the 100 Megawatt project that consists of 34 Siemens turbines.
It produces energy equivalent to the annual electricity needs of 35,000 Ontario homes and generates $250,000 in local property taxes each year.
The project is owned by Samsung and Pattern Energy Group, as well as the Walpole Island First Nation. The Municipality of Chatham-Kent also owns a 15-per-cent equity interest through Entegrus.
Chatham-Kent Mayor Randy Hope said the municipality's investment in the project is "the right thing" to help combat climate change. He said Chatham-Kent is Canada's leader in renewable energy.
Janet MacBeth said Walpole Island is an owner "on principle for our children" due to the project's environmental benefits.
Tomo Matesic, president of Entegrus, said alternative energy projects have created "millions of dollars of economic benefit" for the community through jobs, construction, taxes and charitable contributions.
Accepting the cheque on behalf of the animal shelter project were project co-ordinator Lynn McGeachy and FONAS director Ike Erickson.
McGeachy thanked North Kent Wind for recognizing the need for the $2.3-million shelter that is currently under construction on Park Avenue in Chatham. It is expect to open next spring.
Comments
comments