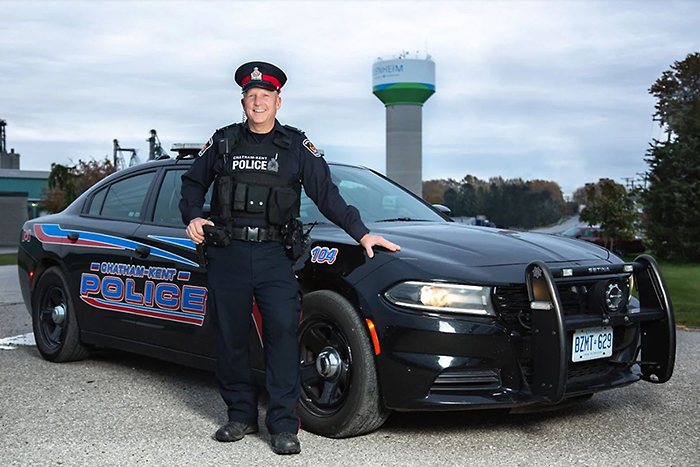 After 30 years of service as a police officer, Chatham-Kent Police Service Const. Paul Myers is trading his badge and gun for family time and retirement.
Tuesday night, Myers worked his last shift after spending the last 27 years of his career serving Chatham-Kent.
According to CKPS communications Const. Renee Cowell, Myers was raised on a farm in Muirkirk and went to school in Ridgetown before pursuing post-secondary education in Kitchener.
In 1989, at the young age of 24, Myers started his policing career with Peel Regional Police, and then in 1991, he decided to move back home and accepted a position with the Chatham Police Service where he was assigned uniform patrol.
With amalgamation in 1998, Myers became a member of the newly named Chatham-Kent Police Service. Over the next 10 years, Cowell said Myers worked with Crime Stoppers, was a member of the Community Priority Action Team (CPAT), Child Abuse Investigation Team and Major Crime Unit.
In 2008, he returned to uniform patrol, working in Dresden, Thamesville and Wallaceburg. In 2010, Paul made his final move to Blenheim.
During his shift Tuesday night, Cowell said Myers reflected on his policing career.
"In my 30 years, I've been spit on, cursed at, swung at and blamed for most of life's problems. However, I've also been thanked, hugged, fed and helped by others at times where I felt like I was losing the battle," Myers noted in a media release. "I've been blessed to have been put in a position to save the lives of several who couldn't see the value of their own life. I've also been blessed to see the change in people's lives from abuse and self-destruction to growth and prosperity.  Thank you, Chatham-Kent, for all you have provided me and my family."
Myers said he is ready to start the next chapter of his life.  He will be staying in the Blenheim area with his family and is looking forward to spending more time with his grandchildren.
Comments
comments