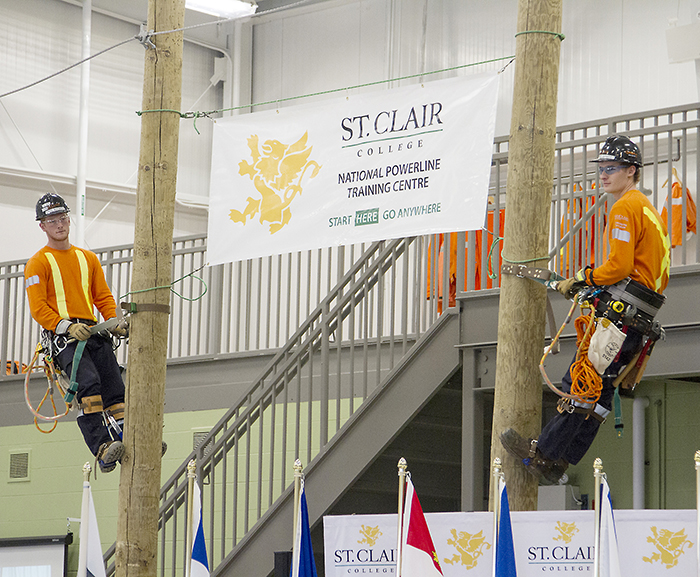 On Friday morning, St. Clair College celebrated the opening of its new National Powerline Training Centre at the Chatham Campus.
Already home to 144 first- and second-year Powerline Technician and Powerline Maintainer program students, the $2.1-million facility is 6,500 square feet and includes features such as indoor climbing, underground training and a multi-use truck bay space.
The facility was built on a 10-acre property with the help of the federal government's Post-Secondary Institutions Strategic Investment Fund, as well as various public and private partners.
With the average Powerline Maintainer being 55 years old in the province, Chatham-Kent Leamington MP Dave Van Kesteren said the demand for the centre has never been greater.
"We can well imagine there is a need for this program," said Van Kesteren,
"There weren't a lot of colleges that were going to be able to access this fund. I know the government made a good choice."
St. Clair College President Patti France said the support they have received on all levels has been invaluable; making the program what it is today.
"Even what our students are wearing today is donated. It saves our students money and it supports the opportunity for us to be state-of-the-art and provide quality from a delivery perspective," said France.
With the help of experienced faculty who have brought their expertise to the students, France said the program has taken off from when they first launched in 2011, with current intakes upwards of 70 students, and plans to only grow.
"We're hoping this program will be sought after all over the world, domestically and internationally," said France.
One of the students excited about the new facility is second-year student Zach Rank, originally from Burlington, who hopes it will bring more students to the program.
"My experience has been nothing but great from Day One. The instructors are first class, they are relevant to the industry, some of which still work for local utilities around here, so they know what we need to learn to work in the field after we graduate," said Rank.