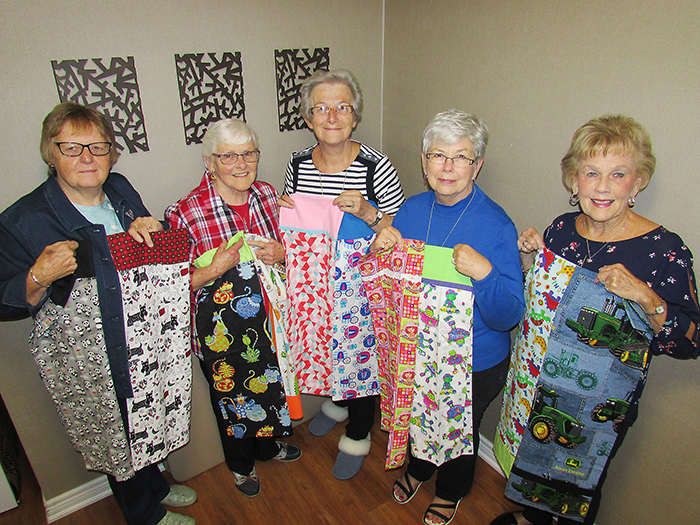 For the past five years, a small but industrious group of Chatham women have been adding a bit of colour and sense of home to sick children's hospital rooms.
The Chatham chapter of Ryan's Case for Smiles, a group that sews colourful cotton pillow cases for seriously ill children in hospitals, was started by Wilma Noordan five years ago after her brother battled cancer. She saw an article in a quilting magazine about sewing pillow cases to give comfort to child cancer patients and knew that was something she could do to help.
Noordan said her group currently has six women who make 110 pillow cases every two months for the children's hospitals in Windsor and London, and they make them on request for the Chatham-Kent Health Alliance locally.
"We have six members right now who get together every two months to show what we have done," Noordan said. "The program was just for cancer patients but now we make them for any child with a serious illness in the hospital."
She noted at one time, they were able to take the pillow cases onto the children's floors, but due to concern with the transmission of germs to cancer patients, they now drop off the completed pillow cases to the front desk to be distributed.
Ryan's Case for Smiles began in 2007 in the U.S. in memory of Ryan Kerr, an inspirational young man who was diagnosed at 12 years of age with osteosarcoma. According to the group's website, Ryan battled five recurrences of cancer, months of treatment and the amputation of his right leg, but never let it stop him from living his life to the fullest. Ryan's mom Cindy started the charitable organization and there are now more than 120 chapters across Canada and the U.S.
The focus of the organization is to "help kids feel better to heal better" and bring comfort and support to young patients and their families.
"We started with a simple goal: to create and distribute whimsical pillowcases that give children an emotional boost and remind them that they are not defined by their illness," the group's website stated.
Noordan said the local chapter is always open to new members or seamstresses who simply want to sew for the group.
"People are always welcome, as are donations of material or funds. Making 110 cases every two months is a lot of work and the material can be expensive," Noordan added.
The material needed must be 100 per cent cotton, with no glitter and it must be washed before it is sewn.
More information about the group and what they do can be found at caseforsmilies.org and Noordan can be reached by phone at 519-351-3621 or via email at wnoordan@outlook.com.