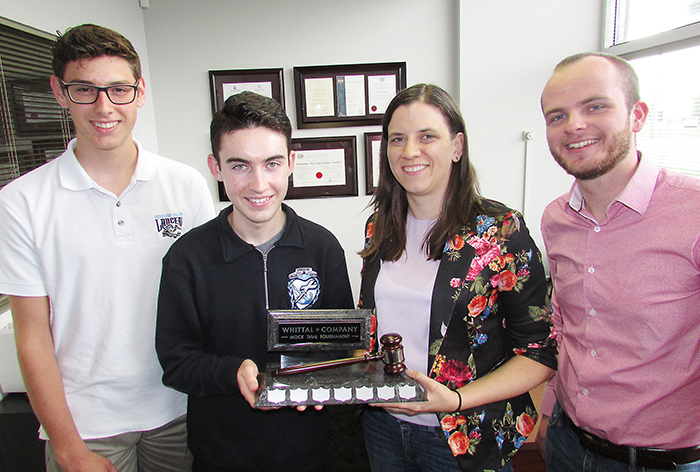 Local high school students with an interest in the legal system are encouraged to take part in a mock trial tournament this fall.
Organized by the local law firm Whittal + Company, the tournament will pit student teams against one another, with coaching from local legal personnel.
The idea for the local tournament evolved from an effort by Ursuline College Chatham students last spring. Katherine Denkers, a lawyer at Whittal + Company, said last spring, she reached out to the Ontario Justice Education Network looking for volunteer opportunities.
"They put me in touch with (teacher) Mark Broadbent at UCC. A group of students there approached him about participating in the Ontario Justice mock trial tournament happening in Windsor," she said.
At that point, Denkers and fellow Whittal + Company staffer Dane Appleton met up with the UCC students.
"We did about four coaching sessions, walking them through the process of what a trial looks like and how to approach the arguments," she said.
Denkers said the students had an enjoyable time at the Windsor event, and she and Appleton, a paralegal, had a great deal of fun helping out.
"We felt it was such a valuable experience for ourselves that we could put something together in Chatham," she said.
Appleton said the growth of the UCC students in the short time the legal team worked with them was impressive.
"At first, the students were pretty timid, shy and not too familiar with legal contests and procedures. In the short period we spent with them, we saw a ton of improvement in argumentation, advocacy and confidence," he said. "It went through the roof. We saw such a huge difference in these kids. We were so thrilled with their progress that we wanted to see that at every school in Chatham-Kent."
Matthew Bacic, one UCC student who took part in the spring, said he found the experience very eye-opening in terms of how the Canadian legal system is run, and has a better understanding of all the work lawyers and paralegals do behind the scenes.
For Quinn Teague-Colfer, another participating UCC student, the experience has him thinking about getting into law after high school.
Denkers said the plan for this year's tournament is to have preliminary rounds take place near the end of October, with the final competition set for Nov. 17 where top teams will compete in a tournament judged by Justice Gerri Wong, one of Chatham-Kent's local Ontario Court Justices.
At this point, Appleton said he and Denkers are working on getting final commitments from local schools. He said some have already confirmed, and there is a great deal of interest in the tournament.
From there, it will be a matter of matching coaches to teams. Denkers said they have legal volunteers from across the municipality, so geographically matching the coaches to schools won't be a problem.
"We have quite a few local lawyers – from Wheatley, Chatham, Dresden, all over Chatham-Kent – who have volunteered their time to act as coaches for teams," she said. "The feedback we got from the legal community was just extraordinary."
Appleton said the legal experts who have stepped forward come from all ages.
"Some volunteers have been in the business for 40 years, and there are people such as ourselves who have been in the business for just a few years," he said. "It's the older generation and the younger generation getting together to help the next generation."
Appleton said the mock trial experience will help kids make career choices in the future.
"We're providing a unique pathway to kids to make the right choices and to develop skills that will be helpful later in life," he said.
Furthermore, the mock trial has a charitable aspect as well, as the organizers are working with Restorative Justice C-K. Donations will be collected at the door on Nov. 17, with proceeds going to the local non-profit organization.
Restorative Justice C-K provides services for youth in the criminal justice system and at-risk youth coping with a variety of challenges.
The RJCK Positive Strides Programs are preventative intervention and educational sessions for at-risk youth. The programs are targeted at youth facing challenges with substance abuse, anger management, online and offline harassment, and criminal activity.
All donations gathered during the tournament will directly fund the Positive Strides Programs.
"The essence of this initiative speaks to the work that RJCK carries out every day with local youth; providing a unique pathway for young people to build resilience in areas such as leadership, decision-making, and coping mechanisms," said Cecily Coppola, RJCK executive director. "What a meaningful way for local youth to learn and to engage with our community!"