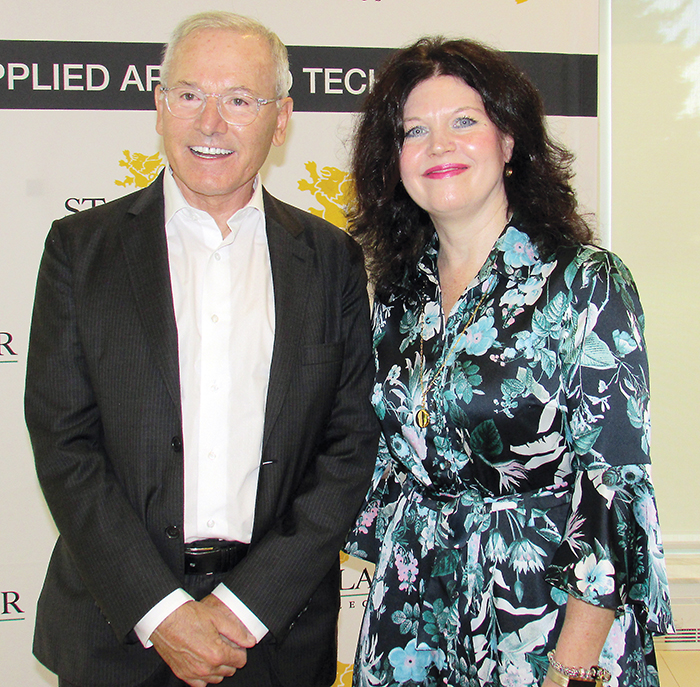 The new student centre at St. Clair College Thames Campus will bear the name of successful and philanthropic alumni Andrew Faas, who graduated from the college's Business Marketing program in 1972.
At a ceremony at the college Monday, St. Clair College President Patti France, with student council representatives, unveiled the new Andrew J. Faas Student Centre, which has undergone $2.3 million in renovations of the 9,600 sq. ft. space. Faas, through the Faas Foundation, donated $100,000 to the project.
France thanked Faas for his many contributions to St. Clair College as a distinguished alumni, including a $1 million contribution to the building of the Thames Campus Healthplex, and said there were so many naming opportunities, but the college board and students felt the student centre was a perfect fit with Faas and the goals of his foundation.
The alumnus was honoured by representatives from the provincial and federal government, and also received a plaque on behalf of the municipality from Mayor Randy Hope.
"It's great but the real recognition is maybe a legacy I leave behind in terms of the work we do in creating more psychologically safe, fair and active environments," Faas said at the unveiling ceremony. "Democracies are built on associations and relationships and dialogue, so anything you can do in terms of facilitating that in terms of buildings or other venues; that's ancillary to actually getting people to have that dialogue that is so necessary."
Faas said technology and social media have played a big role in stopping normal interaction between people, and is harmful to forming relationships with colleagues, friends and family. Places where people gather face to face are needed more than ever.
"It's critical. You need the eyeball- to-eyeball or at least voice-to-voice relationship, and technology should augment that one-on-one discussion or association. Technology is only one part of it. The more concerning is the inability to have a civil discussion or dialogue. When you look at the history of debating and how that has eroded where people are actually positioned to pit themselves and look for flaws versus what debate should be – to understand other people's perspectives," Faas noted.
He said in education currently, there is a whole movement to restrict freedom of information "because they want to shield students from the extreme positions and that's wrong. People need to hear it.
"Spouting hate is wrong and that shouldn't be tolerated. It's not part of freedom of expression. But to stand up and say, 'I believe in this and that's why I believe in this;' that needs to be heard," Faas said.
The new facility includes a lounge, ping pong tables, an outdoor patio, a pool table, a big-screen television and chairs and couches for relaxing.
Comments
comments