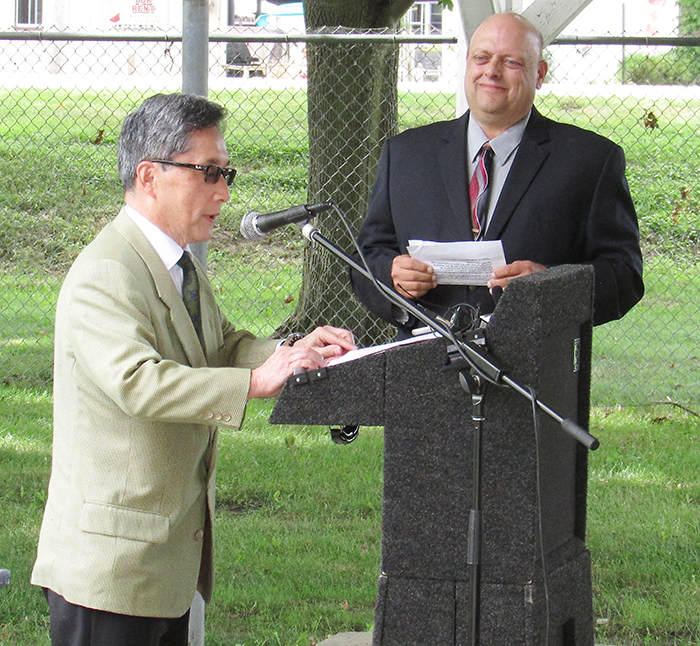 Nearly 100 people looked to the past and discussed the present on Friday in Mitchell's Bay at a ceremony held to commemorate the forced migration of Japanese-Canadians to this area during the Second World War.
The end result of more than two years of work, the ceremony featured the dedication of Sakura cherry trees and heritage markers. Several guest speakers discussed the past that brought the Japanese-Canadians to what was then known as Kent County, and how Canada and Japan have seen relations greatly improve over the years.
Takao Ito, consul general of Japan in Toronto, said in 1942, 154 Japanese-Canadian men were relocated from the West Coast to five work camps to Kent County.
"This bit of local history must never be forgotten and must be learned from," she said.
Ken Noma, past president of the National Association of Japanese-Canadians, and co-chair of the Japanese-Canadian Heritage Marker Project, said the War Measures Act of 1942, enacted by Prime Minister William Lyon Mackenzie King, saw families forced to give up their homes as they were relocated to Ontario.
By 1945, he said more than 4,000 Japanese-Canadians had been relocated to Ontario. Many stayed after the war ended.
"It became a gateway for Japanese-Canadians to come into Chatham-Kent, London, and Toronto," Noma said. "Japanese-Canadians will be forever grateful for the people who first welcomed them into the area."
Peter Wakayama, a Toronto resident who grew up in Chatham-Kent, said his parents were victims of the upheaval of the War Measures Act, after having come to Canada in the 1920s.
"My parents went through a very terrible time. They started their lives in a foreign country and were uprooted," he said, adding they weren't alone. "When you think of them and what happened to them, they were wonderful parents and deserve our thanks."
Wakayama said in the 1950s and 60s, there were about 14 Japanese-Canadian families in Chatham, and they were a close-knit community.
"We still kept Japanese traditions, such as for New Year's," he said. "Our fathers would go around to Japanese family homes and have a toast."
Despite the circumstances that brought his family to Chatham-Kent, Wakayama said he has great memories from his youth.
"Chatham was a great place to live and grow up," he said.
Chatham-Kent Mayor Randy Hope said Friday's ceremony is a reminder of how important inclusivity is to this municipality.
"Today is a proud moment in our community to recognized the important contributions of Japanese people in our community," he said. "You have a friend in this community that respects history."
Relations between Canada and Japan have changed a great deal over the years. Ito said there are more than 800 Japanese companies operating in Canada today, "thanks in part to the level of trust maintained."
The cherry trees and historical markers will be placed elsewhere in the municipality in the future, including Etonville in South Kent, home of the last standing internment building from the Second World War. The deteriorating condition of the building made it unfeasible to be preserved and included as part of the commemoration project.
Local MPPs Rick Nichols and Monte McNaughton were among the dignitaries and guest speakers who also attended Friday's event.
The event concluded with a performance by Japanese musical group Ten Ten.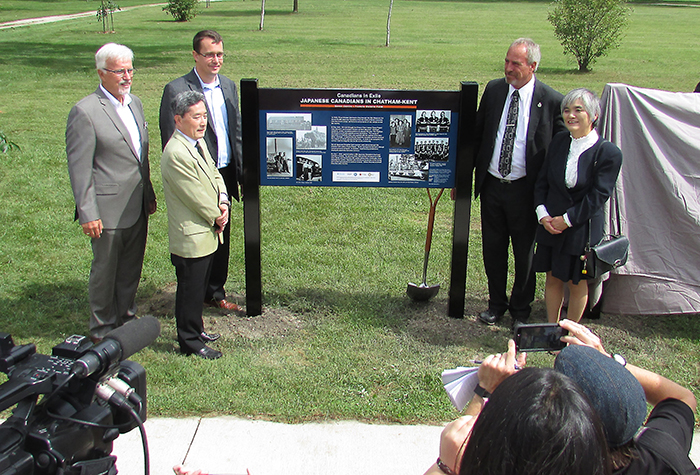 Comments
comments