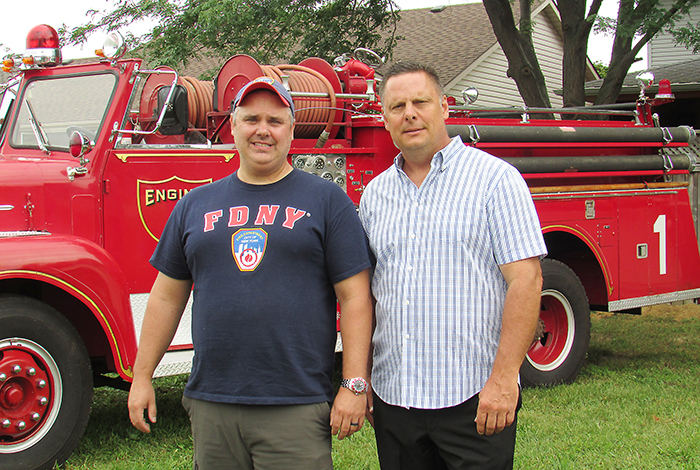 Citing burnout and some frustration with municipal officials, the organizers of the annual FireFest say this will be the event's seventh and final year.
Keith Chinnery and Brent DeNure, co-founders of the event, said organizers are fatigued after seven years of bringing FireFest to the municipality.
They estimated last year's FireFest saw about 12,000 people come to Chatham's downtown to check out more than 80 antique fire trucks, ambulances, police cruisers and other emergency vehicles.
"This is the largest fire muster in Canada. Anything with a flashing light is welcome," Chinnery said. "It's all run by volunteers. No one makes any money on this. But we've hit that point where the volunteers are very fatigued."
Despite drawing crowds of people to Chatham's downtown, the non-profit event did not receive any municipal support funding this year, Chinnery added.
In fact, donations to help run the event were down across the board. He cited donor fatigue, with other important events such as the International Plowing Match receiving support.
The shortage of dollars means changes to what is being offered this year. DeNure said the focus remains on entertaining the children. There will be the popular trolley ride, firemen on stilts, face painting, and the Junior F.I.R.E. Challenge – where kids get to don firefighter gear, use a fire hose to knock down simulated flames, and rescue a doll from the building.
The Junior F.I.R.E. Challenge is a key element supported by the St. Clair College Alumni Association. Chinnery said the group has been on board since Day 1.
In the past, FireFest organizers have brought in guest speakers such as Malcolm Bricklin, creator of the Bricklin sports car; Randolph Mantooth, actor on the TV drama "Emergency;" former NHL goalie Tim Cheveldae; a replica Ghostbusters vehicle; the Fire Combat Challenge; film directors; 9-11 survivors; and more. This year, there will be no such panache.
"No funding from the municipality this year hurt what we could bring in," Chinnery said of events and entertainment. "No speaker, no band, no stage this year. The annual budget dictates what we can do. When we have full funding, we bring in more speakers, more attractions, more eye candy."
He estimated the annual budget for FireFest in the past has been around $30,000.
DeNure said he's unhappy with how the municipality didn't support FireFest this year financially. In the past, they at times received $5,000 grants to help with the event.
"It's been a privilege and an honour to bring this event to what it is today. But I have to express overwhelming frustration with the number of man-hours I put into this and then not have the support of (municipal) administration. You wonder why you do it," he said.
FireFest has the support of Chatham-Kent Fire and Emergency Services. Fire personnel will be on hand at Station 1 on King Street during the day, showcasing the fire station and their vehicles.
Training officers Jeff Pulleyblank said firefighters would also be conducting demonstrations, such as the use of the Jaws of Life for a vehicle extrication.
DeNure said FireFest likes to go beyond Chatham's borders when possible as well.
"Every year since 2012 we've made efforts to promote the entire municipality," he said. "Our core event is in Chatham."
Last year, FireFest organizers worked with The Boonies Drive In Theatre near Tilbury to air the movie "Ghostbusters," for example.
This year, on Sept. 27, Bayside Brewing Company will be in the spotlight, as a special limited edition brew, Chief's Choice, by the Erieau company will be showcased at a pre FireFest event at Ten-Seven Cafe on St. Clair Street.
DeNure said the first wave of vintage vehicles will roll into the municipality that day, including a 1972 rescue squad vehicle from Maine, a 1965 Seagrave fire truck from South Carolina and a 1944 Mack "hotrod-type rig" from Pennsylvania.
"These are fascinating rigs with fascinating stories to get things started on Thursday evening," DeNure said.
FireFest will showcase vehicles and events outside of its Sept. 27-29 window as well. Chinnery said several vehicles and the junior challenge will be set up at the Family Fun Day Sept. 16 organized by the college alumni and taking place at Thames Campus.
As well, the junior challenge and vintage rigs will be at the International Plowing Match. Chinnery said the challenge will be set up for much of the event as school kids come through.
And 15 fire trucks will work to set a world record Sept. 22 for the longest parade route for fire trucks at 25 kilometres.
The marshal for that parade is to be Denis Lauzon, the fire chief of Lac-Megantic, Que., in 2013 when Quebec's worst rail disaster took place in that community as a train containing crude oil derailed and several rail cars went up in flames in the downtown, killing 42 people.
Following the parade, the fire trucks will be on display at the IPM from 11 a.m. to 3 p.m.