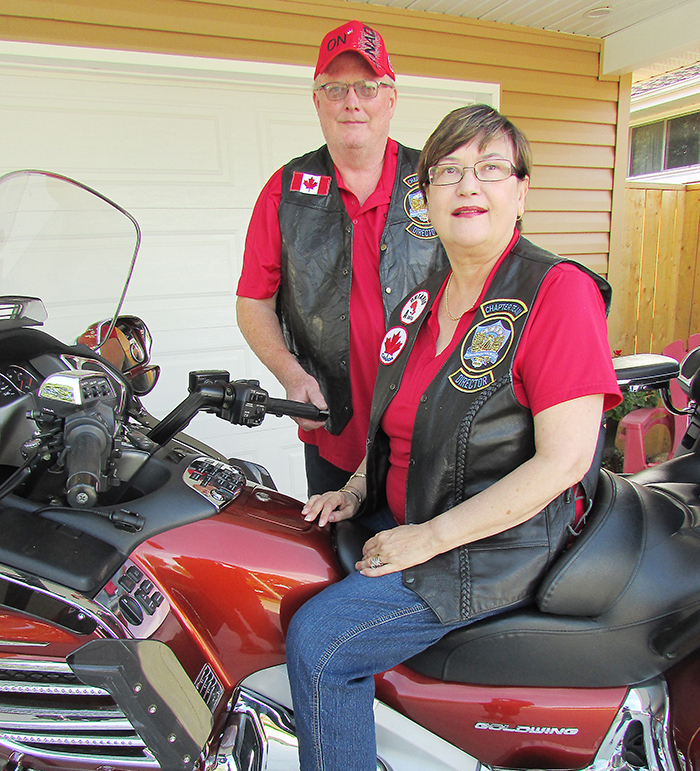 For 35 years, Chatham couple Marina and John Thompson have been involved with the Salvation Army Toy Ride, which collects toys and cash for Christmas hampers given to families in need each year.
This year, the ride takes place as always with the start in Blenheim on Sept. 16 in the parking lot by the Royal Canadian Legion behind the main street. Registration for the event starts at noon, and the ride starts promptly at 1:30 p.m.
Riders will make their way on a designated route, with police escort, to the Salvation Army Church on Orangewood Blvd. in Chatham for 3 p.m.
For the last five years, the Thompsons have been members of the Goldwing Riders Association, an organization Marina said started in the U.S. and now has chapters world-wide. The local members of that group are also doing a food drive the day before on Sept. 15 at some of the grocery stores in Chatham, Blenheim, Ridgetown and Tilbury.
Marina said they are looking for volunteers to help with the food drive to collect and load the donations. Students looking to collect volunteer hours are welcome to call her or John.
"We've been involved with food drive for the past 18 years and we have filled a five-tonne pickup truck with donations," Marina noted. "People are so generous and riders come out with toys or sometimes cash donations that we use to buy toys."
A pickup truck driven by John will lead the riders, and is available for riders to put their donations in.
"About 50 to 75 riders come out usually, as well as the regulars who have been riding for years," John noted. "It's nice to have their support, and we'd like to build that number up even more. Everyone is welcome to come out and ride. It's open to all riders."
Anyone wishing to volunteer to help with the food drive Sept. 15 can call 519-359-5757 and students should bring their volunteer hour sheet for the Thompsons to sign.