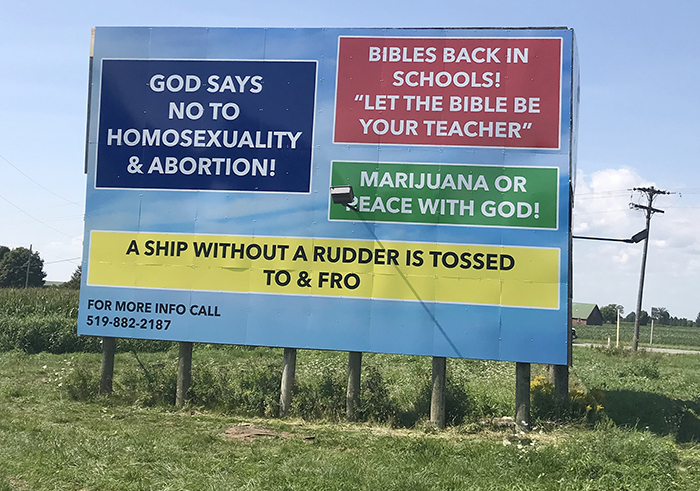 An anti-gay billboard located just outside Dresden is no more.
The controversial sign came down Monday evening, less than a week after being erected.
A large portion of the sign read, "God says no to homosexuality & abortion."
It caused an uproar. The man behind the sign, Ralph Baker of Petrolia, had his phone, the number of which was right on the sign, ring off the hook.
Marianne Wilson, president of the Chatham-Kent Gay Pride Association, said the billboard – located at the intersection of Highway 21, Kent Bridge Road and Countryview Line south of Dresden – had to go, as it had "attacked the very soul" of Chatham-Kent.
"We are very happy to have this message no longer in the landscape, and it has inspired our community to continue to celebrate the diversity and love that is represented in Chatham-Kent," she said in a statement. "This experience shows us all that our work is not done. We will continue to embrace the inclusivity, love and unity that exists. We will continue to build an open and safe community for everyone."
Wilson said respectful and open dialogue is needed to help dispel hate and fear.
The sign also read, "Bibles back in schools! 'Let the bible be your teacher;'" "Marijuana or peace with God;" and "A ship without a rudder is tossed to & fro."
Comments
comments