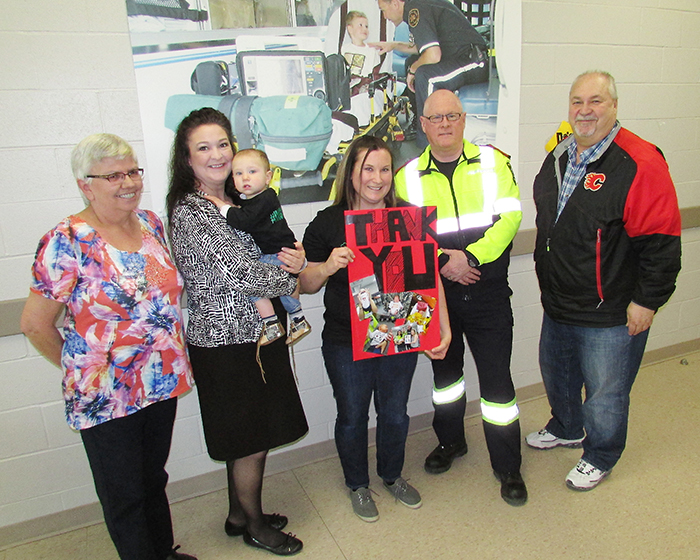 A year after giving birth to her son on Highway 401 in Chatham-Kent, Lindsay Margeson came back to give her thanks to local paramedics, via the Chatham-Kent Children's Safety Village.
While many adults in Chatham-Kent were getting into their Irish spirit on St. Patrick's Day last year, a very pregnant Margeson was just trying to get home to Brantford. Meanwhile, her soon-to-be born son had a different idea.
Margeson left Wallaceburg with the intent of getting home to Brantford, only to reach the edge of Chatham-Kent before calling 911.
"Last St. Patrick's Day, I went into labour in Wallaceburg. I decided to try to make it home to Brantford. I got to Orford Road," Margeson said. "But I realized the baby was coming, so I called 911 and had no idea where I was."
Paramedics were dispatched from Chatham-Kent as well as Elgin County. The C-K team wound up transporting Margeson west towards Chatham, intent on getting her to hospital for the birth of her fourth child.
They didn't make it.
"He was delivered on the 401. He wasn't waiting," Margeson said of her son Hunter. "The paramedics were beyond amazing."
Margeson said when the contractions began in Wallaceburg, where she was visiting the father of her children, she didn't think anything of driving home. After all, her three other sons arrived on time, not early.
Hunter, however, had another plan. But it also helped his mother avoid giving birth in the hospital. She said she prefers having home births.
"The benefit of delivering in an ambulance is I didn't have to stay overnight in the hospital," she said. "I stayed overnight in Wallaceburg and drove home the next day."
Paramedics Danielle Mifflin, Dave Shea and Jim Sinclair helped Margeson in her time of need.
She wanted to give back to the paramedics, so for Hunter's first birthday she held a party in Wallaceburg, inviting the paramedics as well, and raising $455, which the paramedics said should go to the Children's Safety Village.
"We had first responders on hand. I wanted to donate to EMS, but they said they'd just donate the money to the Children's Safety Village," Margeson said.
Jim Christie, operations manager with Medavie EMS in Chatham-Kent, said it's surprising how many people end up having babies either on the roadside or at a rest stop.
"I've done eight roadside deliveries," the veteran paramedic said. "It happens. People figure they have lots of time and the baby decides to come early."
Comments
comments