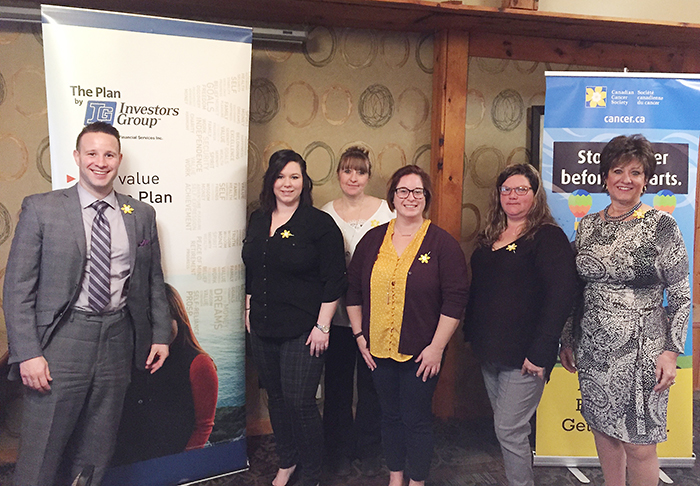 While Mother Nature might not agree, it is spring in Chatham-Kent. And that means it's daffodil season, specifically the Canadian Cancer Society's annual Daffodil Campaign.
Cindy Vinall of the Canadian Cancer Society said the annual April campaign marks the anniversary month of the society, which just had a milestone birthday.
"As an organization, we're 80 years old," Vinall said. "We're the leading cancer charity in Canada; the major charitable funder of cancer research."
The organization also funds the Wheels of Hope Transportation Service, which helps cancer patients get to and from their treatments and other medical appointments.
In 2017, the local branch of the society helped 219 clients get to their appointments, Vinall said. Volunteers drove about 347,000 kilometres, making 2,300 trips.
The society has an average of 32 drivers on the roads locally Monday through Friday.
Vinall said Canadians' familiarity with the society is at arm's length at best.
"Sadly, people know us, but they don't know us well," she said. "Unless cancer's impacted you at the time, you might not be paying attention."
But the support received is greatly appreciated.
"Your dollars have a significant impact on other people," Vinall said.
The campaign is equal parts fundraiser and awareness raiser. Volunteers will be going door-to-door this month seeking donations and providing information. Vinall said the volunteers should be easily identifiable.
As well, volunteers will be set up at various sites around the municipality selling the plastic daffodil pins.
Daffodils are a symbol of life and happiness, Vinall said.
"When people give generously in April, that's what they're providing to others," she said.
To learn more, visit http://www.cancer.ca/en/?region=on.
Comments
comments