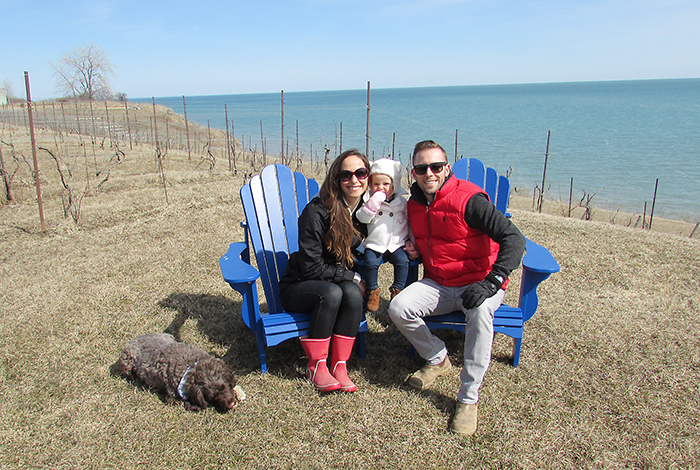 When Rosanna Magliaro graduated from high school 16-plus years ago, she couldn't wait to leave Chatham-Kent.
And now Rosanna Mitchell is more than happy to be home.
She and her husband Steve Mitchell traded their 850-square-foot Toronto condo for a 10-acre parcel of land on Lake Erie, featuring beautiful sunrises over the lake, and possibly a winery as early as later this year.
Rosanna, 35 and Steve, 36, who is from Windsor originally, met in Toronto where the pair went to post-secondary school. Rosanna started out in the entertainment industry, performing globally with Koba Entertainment, and appearing in commercials as well. She also ran her own performance and visual arts camp for children for a decade.
She eventually returned to school to become a teacher. She's now at Ursuline College Chatham, while Steve is teaching at Chatham-Kent Secondary School. Rosanna also runs a pop-up arts studio, artistsinbloom.ca, for children and adults.
The couple lived in Toronto for 15 years, enjoying all that the big city had to offer. Steve also did some acting while they lived there.
They developed a group of close friends that became like family to them, something they admit was needed when living three and four hours from their places of birth.
Rosanna said the timing to come home, however, was ripe.
"We loved Toronto in our 20s. But it was only OK in our 30s," she said.
It was a motorcycle ride for Steve one day that changed everything.
"I was riding my motorcycle to visit my mom near Harrow and I saw this property for sale," he said of their Talbot Trail home. "I got off the bike, walked around the property and looked around."
He loved it. But there was one problem. It was out of their price range.
A year later, the Mitchells happened to see it was still for sale, and still too expensive.
But the following year, 2015, the listing was under a new agent, and it sported a lower price.
"We made a pros and cons list," Steve said. "The pros for moving back to this area were about a page long. It included cost of living, seeing our families, having fires."
And then there is the lakefront property.
"The difference between 850-square-feet and 10 acres is ridiculous," he said.
Another factor for Rosanna was a shorter commute. She and Steve face about a 25-minute drive each day, but in Toronto, her commute was 70 minutes minimum each way.
"Not to have to sit in traffic on the 401 is great," she said.
Another perk is the fact they purchased a property with acres of grapevines, and hope to open a winery in the near future.
"My parents are Italian, so the idea of their daughter owning a winery is pretty cool," Rosanna said.
Being close to family again is another huge bonus.
For Steve, simply being able to enjoy the outdoors is a bonus.
"This landscape can really take you away. You get connected to the land and the outdoors," he said.
One thing they do miss about city life is the fact everything was close at hand.
"It's lovely here, but every now and then we miss the convenience of going out the door to grab a coffee," Rosanna said.
Being in Chatham-Kent is not all about rural life for the Mitchells. After returning to Chatham-Kent for Rosanna, she and Steve discovered what they call a "secret, thriving arts community" in Chatham-Kent.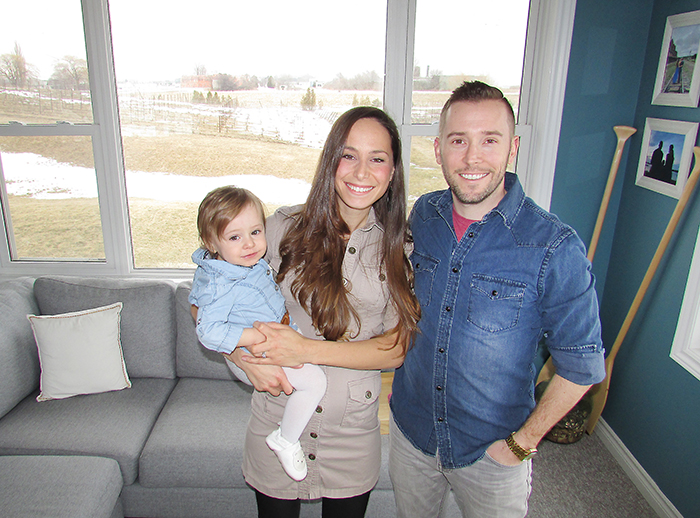 "It's nice to connect with like-minded individuals," she said.
Since coming to Chatham-Kent, the couple has made an addition to the family: their daughter Stella, who is an energetic 16 months of age.
Steve admitted when they first moved in, they faced an interesting transition from city life to country living.
"Neither of us grew up on a farm. We were lost. I didn't even know how to start the tractor," he said.
But with a great deal of trial and error, and the support the likes of George Smith, who with his wife Mary Jane ran Smith & Wilson Estate Winery near Blenheim for a number of years, the Mitchells have learned a great deal about rural living.
The previous owners of their property grew grapes, but sold them to a winery. The Mitchells hope to one day do everything in house, as their dream is to open a boutique winery, Blue Roof Winery, aptly named after their readily identifiable blue roof on their home. They hope to have their website up and running soon, and encourage people to keep checking back at blueroofwinery.com to follow their progress on site.
The Mitchells hope to harvest their first grapes this year. It's been a challenge nursing the vines back to health after back-to-back extremely cold winters earlier this decade killed off a great deal of the grapevines along this section of Lake Erie.
Their vines produced grapes last year, but Rosanna said they weren't sweet enough, so they let them fall to the ground to serve as fertilizer for the future.
Steve said while they have the grapevines, and the equipment to look after the grounds, what they lack is the winemaking equipment. As a result, they will have to start their effort off site.
"We'll sell part of our grape harvest for a while and take the rest to another winery to make our wine," he said.
It's just another challenge the Mitchells look forward to facing together, here in Chatham-Kent.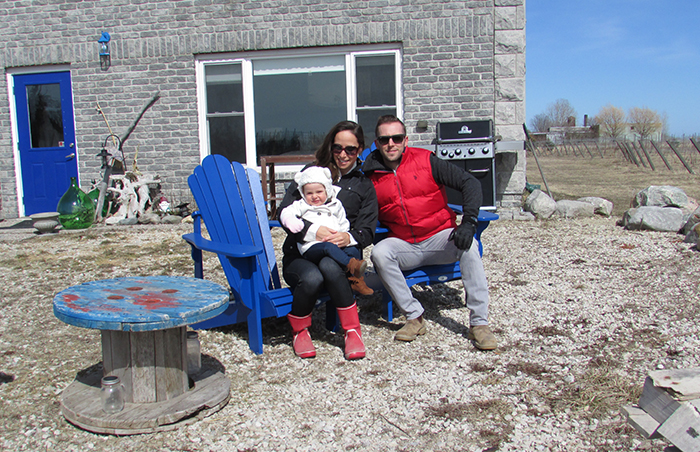 Comments
comments