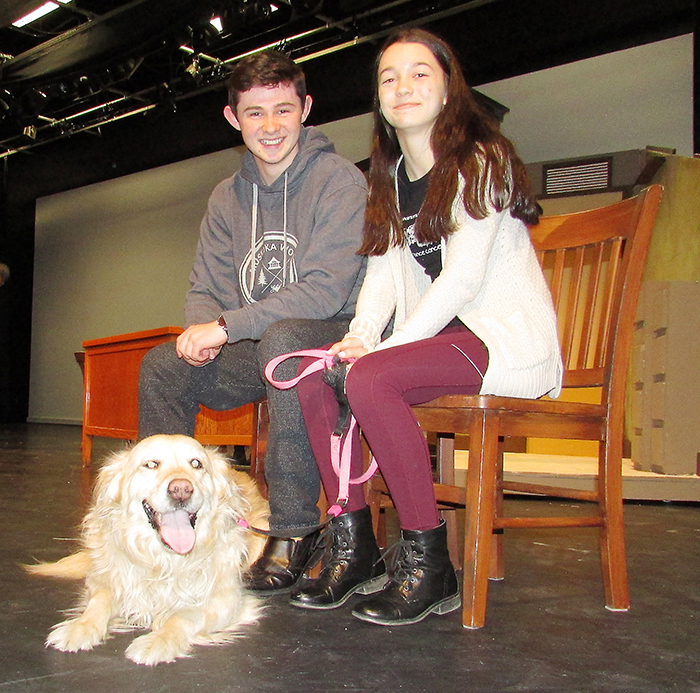 For Lindsay Dunlop, performing arts teacher at Ursuline College Chatham, this year's theatrical production at the school completes a circle, of sorts.
Dunlop is directing Annie, and it's not her first experience with the show at UCC.
"I played an orphan in Grade 12," she said, while a student at the high school.
She's been directing the annual shows at UCC on and off since 2001. When she's not directing, she does the choreography work on the shows.
This year's main characters are portrayed by Avery Kosik (Little Orphan Annie) and Jack Gillis (Daddy Warbucks). For both students, this marks their second foray into high school stage shows, as they were in The Wizard of Oz last year, with Kosik as Dorothy and Gillis as the Cowardly Lion.
Kosik said she's excited to take on the role of Annie.
"I have to act younger and be tougher. It's very different from last year as Dorothy," she said.
Gillis, a Grade 11 student at UCC, said Warbucks is a unique character.
"It's really different from anything I've done before," he said. "It's a bigger role, for one, and the character is more serious with a big heart. It's a big adjustment from being a goofy dude (the Cowardly Lion)."
Kosik said her love of the theatre comes from getting wrapped up in the adventure of each play.
"It's an escape for me. It's like going on an adventure within the story," she said.
For Gillis, he said he just loves being an entertainer.
Annie, despite being written in 1976 and set during the Great Depression, remains topical today, Gillis said, as there are strong political undertones in the show.
"There are a lot of political references; a lot of conflict," he said. "That resonates a lot today."
As mentioned, the show is set in the depression era. Warbucks is a Republican tycoon, while Annie comes from the streets, having escaped a run-down orphanage and navigated through a shantytown of jobless citizens.
Work on the play began back in September, as the cast and crew signed up, rehearsals got underway and set, costume and stage design began.
Dunlop said the students working on the show – and there are about 40 cast members and more than 90 support people – have been a "fun group" to work with. "Every aspect is student driven," she said.
The cast includes a good deal of returning performers from last year, she added.
Annie runs April 11-14 in the UCC auditorium. Show times each night are 7 p.m. Tickets are $20 each.
Comments
comments