For one video, scientist Kurtis Baute made Chatham-Kent the centre of the universe.
Over the Christmas holidays, Baute, 28, returned to where he grew up near Jeanette's Creek to film a video showcasing just how old the universe is, and what major developments have occurred in the close to 14 billion years since the big bang started everything in motion.
Baute, who is seeking to turn his passion for making videos into his career path, used dominoes, with each one representing the passage of one million years. He ultimately set up 13,799 of them.
What's more, he made them.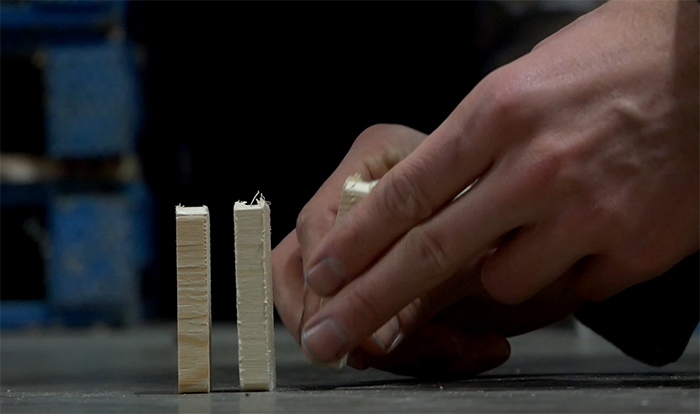 Baute, whose parents are Brenda and Dave Baute, needed a huge space to set up all the dominoes. That's when he turned to them to use their Maizex Seeds warehouse at the family farm.
His 13-minute video has garnered more than 70,000 views on YouTube. But what viewers don't know is the effort Baute went to making it.
Once he had the concept to use the dominoes as a collective metaphor for the passage of time since the big bang took place and the universe came into existence, he had to put the plan into action. The first step was to make all the dominoes. That meant running a lot of wood through a band saw.
Baute's latest video evolved out of a test run to track the history of planet Earth, which he did using 2,000 dominoes at Science World in Vancouver.
"They were wonderful. They let me fill the main centre of the place on the day it was closed," he said. "I wanted to see how many I could get set up in a day. Those were really tall and really hard to set up."
After a "lot of failures" there in the set up process with the cumbersome dominoes, Baute got the idea to make the next set himself.
All he needed was a venue to put the plan into action.
"Luckily for me, I happen to have grown up on a farm with a warehouse that was empty over the holidays," he said.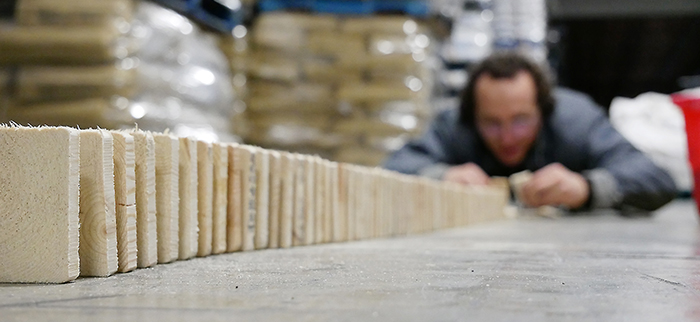 And then he tested his sanity in several ways.
"Just cutting them (the dominoes) took four days," he said. "Setting them up, I listened to audio books and music. That was easy. I had to really focus using a band saw. That was a lot more stressful."
As a result, Baute said he has newfound respect for people around the world who spend their workdays "doing monotonous tasks where risk is involved.
"I was just making toys. But that's challenging work," he said. "It was scary seeing the big pile of wood and realizing I had to cut it almost 14,000 times."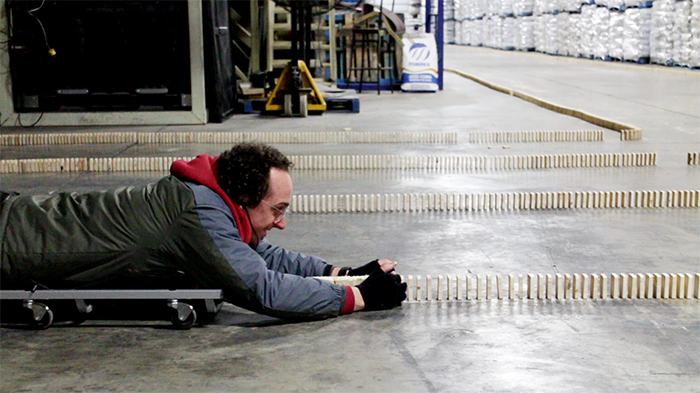 After four days of cutting, Baute spent another four setting up the dominoes, leaving gaps every 200.
"On the first day, 'This was going to be great!' By the second day, 'What have I decided to do,'" he said. "They kept falling over."
But he persevered, and reached the point where he could tell when one was about to fall and he'd consistently catch it before it hit the next domino.
"At the end of the third day, I was thinking, 'This might get done. If it falls over, it falls over. Everything will be fine,'" he said. "By the fourth day, I was dancing around, really excited to see what could be done."
The next day, Baute said he set up the cameras and placed the final dominoes, and then took to setting up other props, such as a volcano. All that remained was filming, where Baute would describe key moments in the expansion of the universe as the dominoes toppled.
The only problem is the first attempt fizzled.
"When we started, after about 300, the dominoes just stopped falling over. I was worried it wasn't going to work through the 13,799," Baute said. "I reset them and thought, 'If they stop falling over, I'll just give them a push and keep going."
He didn't need to. They fell on cue.
Baute has long had an interest in making videos. It began during his time at Ursuline College Chatham, he said.
"The first video I did was in that warehouse," he said. "That first one was before I discovered science. I only figured out that science was really cool in university."
Baute said that initial video was a work of fiction.
"I was dreaming. I woke up and my reflection in the bathroom mirror was alive and started chasing me around the warehouse," he laughed. "It was a project in Paul Bourdeau's classroom."
Baute said Bourdeau suggested he post it to YouTube and submit it to a film festival, which was a youth branch of the Toronto International Film Festival.
It won its category.
"It was a lot of fun. That was 10 years ago and I've been making videos ever since," Baute said.
From UCC, Baute went on to get his undergraduate's degree in biology from Wilfred Laurier in Waterloo, and then obtained his master's degree at the Ridgetown Campus of the University of Guelph.
Through it all, he maintained his interest in making videos.
For the past three years, Baute has called Vancouver home, where he initially worked as a teacher. But the pull of the video camera kept tugging at him.
"I was teaching science for a couple of years. I kind of got really excited about making science videos," he said.
He opted to take a year off from teaching and focus on educating people on the wonders of science in a different manner, via video.
"I'm taking a year to see where it goes," he said. "Worst-case scenario is I spend some money to get by and it's kind of like going to school. I'll have also taught myself some new things."
His plan is to make one video a month and release it on YouTube.
Baute's work is starting to get attention, as the large number of views on his latest effort indicates. As well, he's gone from having 1,000 subscribers at the start of this year to his YouTube channel – The Scope of Science – to more than 3,100.
Feedback on his work so far has been excellent, he said, especially on the history of the universe.
"I actually had a few people thanking me for making it (the video)," he said of the more than 500 comments he's received so far on that video. "People are excited. I've had a lot of questions about science and that's why I started making these videos."
His next video, "How a Biologist Builds a Digital Camera," with a target release date of Feb. 1, is to examine how the eye has evolved. Baute said he opted to use a camera as the metaphor in that instance, and he makes one starting with a penny.
"Most people use cameras on a day-to-day basis and they don't know how they work. They also use their eyes on a day-to-day basis and also don't know how they work," he said.
"Science changed my life. I really wish for other people to experience that."
To view Baute's history of the universe video, go to https://youtu.be/ObngtuPFI8A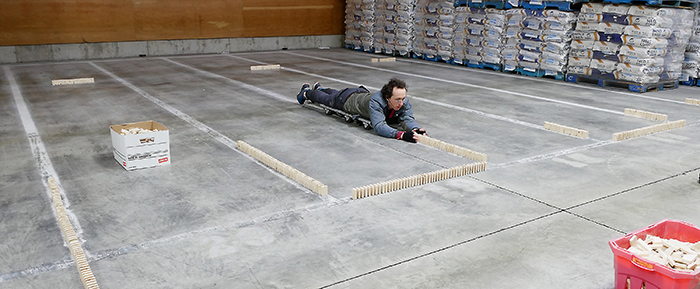 Comments
comments
« Citizens take legal action against province Farm show points to warmer weather »