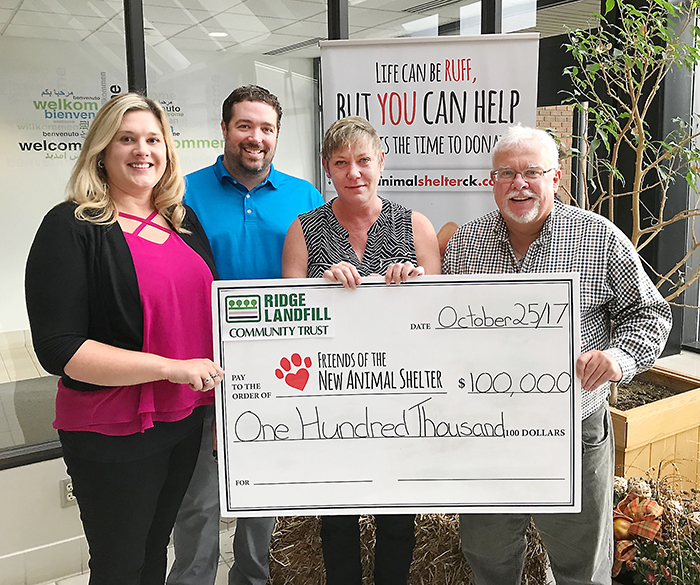 The new Chatham-Kent Animal Shelter is a $100,000 closer to its goal thanks to a donation from the Ridge Landfill Community Trust.
This donation has come at a perfect time according to Lynn McGeachy Schultz, project co-ordinator for the new facility. The capital campaign is still underway with $250,000 outstanding. The Friends group is confident that this can happen with donations like the one made by the Trust.
The Trust was created to support needs in Blenheim and the surrounding area.
This project benefits the area of concern as well as allowing it to address the needs of the entire municipality when built.
It seemed like a great investment, according to Julie MacDonald, who was present representing the Trust.
"We believe that we have a role to support community needs and this project gave us the opportunity to do so," said Cathy Smith, project manager for the landfill expansion.
McGeachy Schultz said the group has raised $1.25 million of the $1.5 million needed to build the new shelter.
The shelter is being built adjacent to the current facility on Park Avenue in Chatham. That building has outlived its usefulness.
McGeachy Schultz said she was thrilled with the Ridge Landfill Community Trust donation.
"This is an excellent example of how corporate and community groups can support long standing needs and at the same time build for the future. The dream of a new shelter to care for animals within the Municipality will be a reality," she said.
Comments
comments