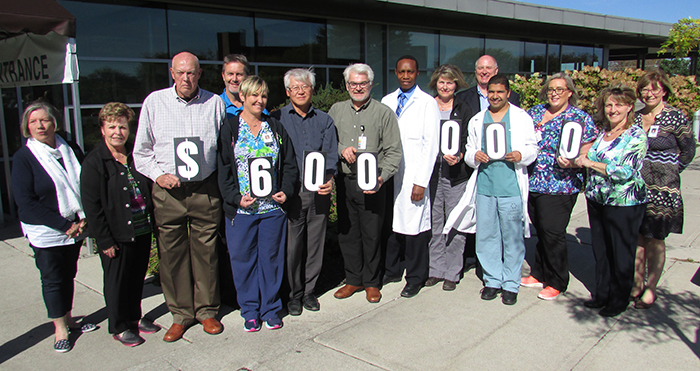 The Foundation of Chatham-Kent Health Alliance's Diagnostic Imaging Equipment Renewal Campaign received a $600,000 booster shot recently.
The Public General Hospital Foundation (PGHF) donated the funds to the campaign Oct. 17, bringing the total raised to date to $5.3 million. The target is $6.9 million, with a deadline set for next spring.
Candice Jeffrey, director of development for the Foundation of CKHA, said diagnostic imaging programming is the critical centre for all the hospitals.
"This donation puts the needs of all patients first," she said.
The PGHF has been around since 1983, and raises funds in support of the Public General elements. When the three local hospitals – PGH, St. Joseph's and Sydenham District – amalgamated into the CKHA in 1998, the PGHF funds were held in a separate restricted fund through the Foundation of CKHA. All disbursements of these continue to be approved by the PGHF board of directors.
This marks the first time since 2013, the PGHF has shifted funds to the Foundation of CKHA.
"We really view it as for an entire group of people we are dealing with," PGHF board member Rick Patterson said. "The $600,000 donation – it's about the whole community, not just one hospital, one site."
Charlene Weber, vice-chair of the PGHF, agreed.
"Although the diagnostic imaging department is located outside of the PGH wing of the Chatham campus, we recognize the department impacts all areas of the hospital," Weber said in a release. "The equipment being supported by the Foundation of CKHA's campaign has the potential to benefit every person in Chatham-Kent, and we are proud to support this initiative."
Greg Hetherington, chair of the fundraising campaign, said the donation is greatly appreciated.
"Let's hope this builds new momentum," he said of the donation. "Six hundred thousand dollars is unbelievable. The campaign is still going strong."
Launched in late 2014, the $6.9 million Diagnostic Imaging Equipment Renewal Campaign will support CKHA in the purchase of 18 new pieces of equipment for the Diagnostic Imaging Department, including an urgently needed replacement of the dated CT Scan and a new mammography system.