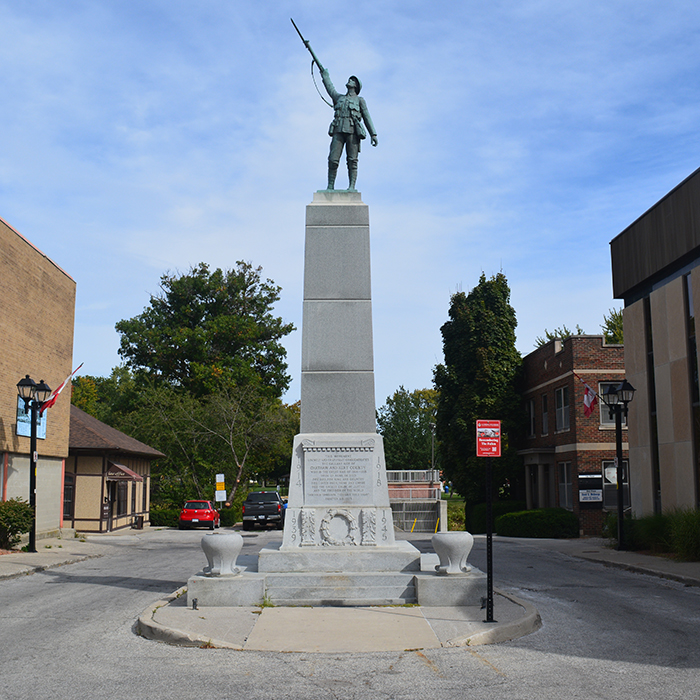 Standing in the chill fall air, maybe even in the rain, for about 90 minutes in November seems a small price to honour our veterans.
CK Keeping 150 is a push for a vigil of 150 hours at the Chatham cenotaph starting Nov. 5 and leading up to the Remembrance Day ceremonies on site Nov. 11.
The idea is to have teams of people hold the vigil at the cenotaph. Four people would be on site at one time, while other members of the team would be getting warm at Christ Church, the host of the event and site of the warming station for participants.
It's a non-denominational event.
Minimum team numbers for the vigil are eight people. And if you don't have eight folks, you'll be combined with others to form the vigil team for those 180 minutes. At least half the time will be spent away from the cenotaph.
The 90 minutes exposed to the November elements doesn't seem like much regardless of the weather. That's especially true if you compare it to what thousands of our veterans endured preserving our freedom.
Think about the harrowing four and a half hours Canadian troops spent landing and securing Juno Beach during D-Day in the Second World War, or the four-day Battle of Vimy Ridge during the First World War. These are but snapshots of what our soldiers endured. Many fought for years so we can enjoy the lives we have today.
Most importantly, think about those who fought for our country and never came home.
We urge people of all ages to come out of their comfort zones to show their support to the CK Keeping initiative. There are openings, day and night, that need filling. Community groups, businesses, sports teams, families – you name it – can fill time slots and help with the vigil.
Organizers Mark Sceviour and Judy Smith are to be commended for not only coming up with the idea, but also working to put that concept into action.
Now, it's up to us to make it happen.
Comments
comments