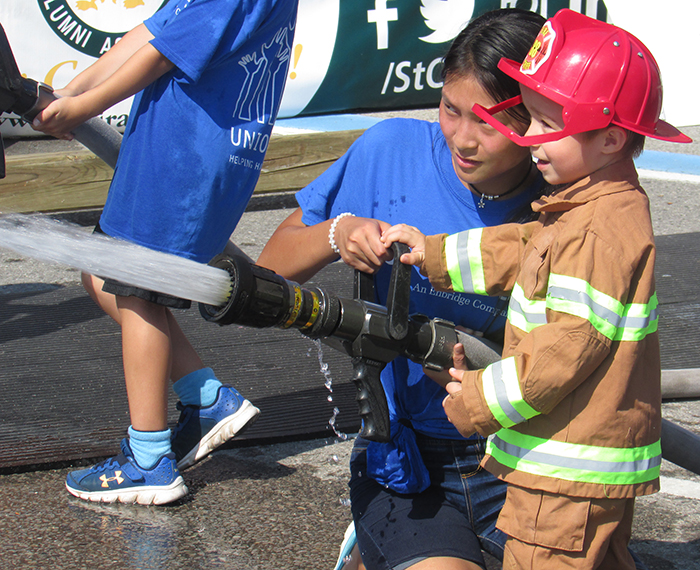 FireFest Chatham-Kent organizers are tired, but very happy following a busy weekend in Chatham and Tilbury.
Brent DeNure, who co-chairs the event with Wes Thompson and Keith Chinnery, said the bright, sunny skies on Saturday were appreciated, as in the past, FireFests have suffered through some wet weather.
"The sun was outstanding," DeNure said. "The weather, if anything, may have been a bit too hot. We wanted people to stay hydrated. Other than that (the heat), it was spectacular."
That heat led to a handful of owners of vintage emergency response vehicles from cancelling and staying home. DeNure said a couple of other rigs didn't make the trip because those vehicles couldn't take the heat.
Otherwise, more than 80 fire trucks and other emergency vehicles were on display Saturday in downtown Chatham as part of the sixth annual FireFest. Sixteen of those vehicles were new to the event.
"It's the most new participants we've had since Year One," he said. "And these first timers want to come back. A lot will go back to their clubs and promote the idea of FireFest."
With the heat, a particularly well-visited attraction on Saturday was the F.I.R.E. Challenge Course for children. With kids spraying two fire hoses as part of the challenge, many a passerby benefitted from a cooling splash or two.
DeNure said the course was a hit with families.
"We had several hundred children come through over the course of the day. It was packed all day long," he said. "It's a big effort to put that course up, but it's worth it when you see the smiles on all the children going through it."
Another big attraction sat parked in front of the Chatham Capitol Theatre, lights flashing, theme song and siren blaring, and Ghostbusters team dancing. A replica of Ecto-1, the emergency response vehicle from the original 1984 Ghostbusters movie, saw people flocking to it.
"It was a huge draw. It had a murmur of energy around it all day long," DeNure said. "Hats off to the three Ghostbusters, in their overalls, dancing and posing in the heat."
With all the attractions, DeNure estimated 12,000-15,000 people strolled through the downtown over the course of the day.
"To see the streets filled from 10 a.m. to 4 or 4:30 p.m., it's very rewarding," he said.
The presence of Ecto-1 led to a new component for FireFest this year, a trip to the drive-in. That took place Friday night at The Boonies Drive-In near Tilbury, where the original Ghostbusters movie aired free of charge.
"We had 160-170 cars at the drive-in. Just the idea of being out under the stars on a perfect night was outstanding. It worked out well for everyone," DeNure said.