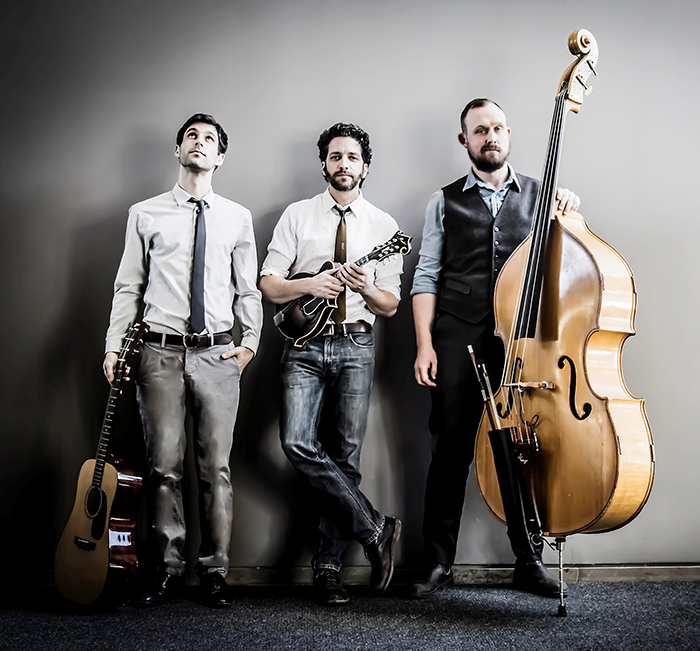 The Mary Webb Centre in Highgate will play host to the talented and innovative Andrew Collins Trio on Sept. 23 at 8 p.m.
The JUNO-nominated, Canadian Folk Music Award winning mandolin maestro Andrew Collins finds himself – through no actual fault of his own – at the epicentre of Canada's burgeoning acoustic/roots music scene. He didn't invent it – but he's certainly a major contributor, having co-founded seriously noteworthy Canadian bands like the Creaking String Quartet, the Foggy Hogtown Boys and, more recently, the Andrew Collins Trio.
With a unique sound that has been described as "new grass" and "Chamber Grass," the Trio blends sounds and instruments to create their own brand of music.
"I've never been a super fan of the term 'new grass.' The term new acoustic has always resonated with me. I love the term 'Chamber Grass' because there are definitely bluegrass elements and influences in this music, huge elements, but I guess I like the fact the name says it is like Chamber music," Collins explained.
With a wide range of audiences who love the sound of string instruments, Collins said some people have difficulty pinpointing the Trio sound.
"Most people hear us and they say, 'that's bluegrass' and then you get us in front of a bluegrass audience and they say, 'that ain't bluegrass.' Everyone thinks we're bluegrass except for bluegrass people," Collins joked.
Gathering up innumerable awards and nominations, Collins, who's comfortable on mandolin, fiddle, guitar, mandola and mandocello, is zeroing in on the work he does with his beloved Trio: fellow string guru Mike Mezzatesta, whose versatility and mastery shine through on guitar, mandolin, fiddle and mandola, and in-the-pocket James McEleney, holding it down on the bass, mandocello and vocals.
Showcasing a popular collision of bluegrass, folk, jazz, classical and swing, not to mention a dizzying number of instruments on stage, Collins and Co. appear to live by the old adage, "idle hands are the devil's workshop" – all the more because their new CD, And It Was Good, even tackles the Creation story itself. Their dynamic, multiple genre show is further enhanced by Andrew's captivating lead vocals and James' soaring harmonies.
"I love the idea to play this instrumental music, but the idea is for it to be entertaining and fun for the audience. A lot of people aren't geared to see a full night of instrumental music and we love to sing so it's really fun to do the same thing we are doing with instrumental music which is exploring all these different genres and doing it with vocal music as well," Collins explained. "It's taking advantage of the different instrumentation we have and a way to have the Trio sound evolve from song to song and yet another device along with shifting from genre to genre to this genre that is just a fusion that doesn't really fit into anything."
For audiences coming out to the show, you can expect to be entertained with quality music, stories and jokes, and mix of light and serious music, making "an ebb and flow of eclecticism."
"We play at least one Roger Miller song a night, some jazz music, classical music, a bunch of original songs, traditional bluegrass music and a little bit of honky tonk, some swing music – we really like to keep it moving," Collins said.
When asked about all the awards he has won and his connection with his followers, Collins said it is really about something new and different.
"One thing about this kind of music, the genre is so unique and for a lot people, it is unlike anything they have heard before. The whole approach to this music is studying different traditions and then trying to create original music that draws from what you're learning," he said. "We work really hard at music and I have a kind of passion for this."
Tickets for the show are available by calling 519-358-6455 or going to the Mary Webb Centre box office at mwcboxoffice@gmail.com. Cost is $30-$40 in advance and add $5 day of show.
Comments
comments