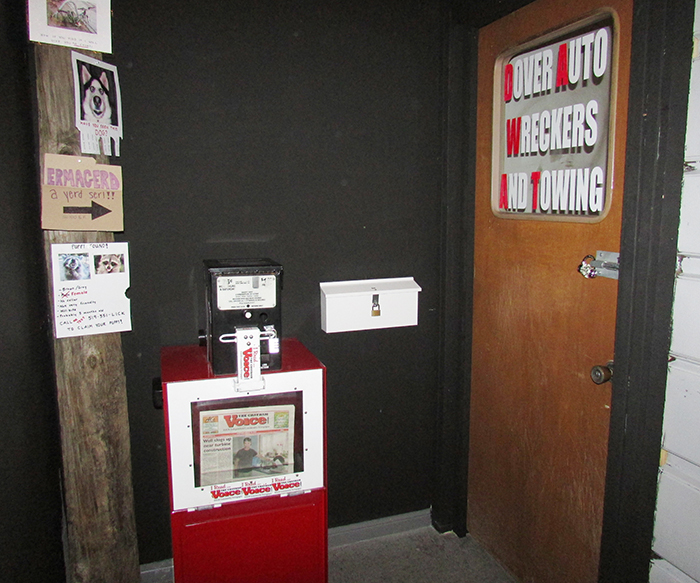 Employees of The Chatham Voice had a tough challenge this past Friday, and we did our best to accommodate, breaking into a garage on King Street West.
The good folks at Locked In CK are in the final stages of development for their latest room – Dude, Where's My Car? They needed testers to go through the room, solve the puzzles, and provide feedback on the experience.
Enter the Voice personnel. We had an hour to break into the garage and into our car, which was used for the getaway from another Locked In room, The Heist. The only problem? The thieves got their darned car towed, with the loot locked in the trunk.
I had done The Heist last year with some of the folks from work. It was a fun, challenging experience. So we all jumped at the chance to act as test subjects for Locked In this time.
It's a puzzle fest, with clues and misdirection elements all over the place. Included in the props is a newspaper box … containing The Chatham Voice!
I'd love to say we completed the room in under 20 minutes – the record for one of the rooms there is under 19 minutes, held by a group of escape room junkies, I'm told – but sadly that wasn't the case. There were six of us on the job, but, as was the case last time, we tried to move too quickly and it led to mistakes, which cost us time.
On top of that, the escape room is pretty darned challenging.
It amazes me how you can think outside the box one moment, yet remain outside that mental box and miss pretty obvious stuff the next.
That was us. And I was at the heart of the errors, failing to double check some deductive work.
We also had a prop error –one reason the people at Locked In like to test their rooms before opening them to the public – and used a few hints, completing the room in about 80 minutes.
All in all, we enjoyed our experience, offered a few suggestions and went home laughing about our efforts.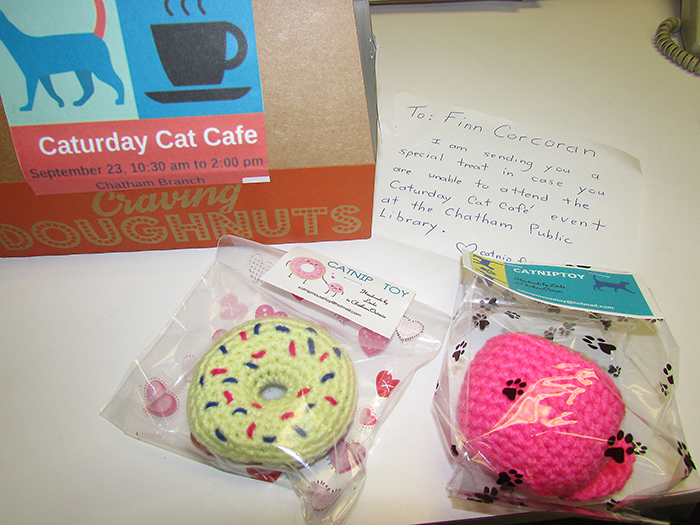 More cat love
A lady quietly walked into our office Monday morning and dropped off a package … for Finn Corcoran!
Yes, our cat received another delivery at the office. This time, it was from "A Catnip Friend" and contained two handmade catnip mouse toys, a doughnut and a coffee cup, created by "Linda" here in Chatham-Kent.
It also contained an invite to the Caturday Cat Cafe on Sept. 23 at the Chatham branch of the library.
Our little furr ball is a popular dude. Last month, he received another handmade catnip-containing mouse from another reader.
As I type this, Finn hasn't had the opportunity to enjoy the toys yet, and I think we'll hold off until later this week. He's to go in to be neutered and could use something to cheer him up afterwards.
Hopefully the neutering will take the edge off his most manic moments.
The guy can be incredibly cute, but there are times when he's so excited that he's downright crazy. You can see the look in his eyes, and see how his ears get pinned back that he's about to lunge and come in for a bite attempt.
He is particularly interested in hands and elbows and can nip at a hand when one of us reaches for the recliner button on a chair or loveseat.
And if you push him away as he comes in, it only seems to encourage him to come on twice as hard, often jumping to gnaw at your elbow.
Most of the time, it's just to place his teeth on your skin, but because he's coming in at speed, and his teeth are so small, he can leave a scrape, or inadvertently puncture the skin.
We're still working on how to curb that habit.
One thing I picked up on the weekend to wear the little guy out a little more is a cat laser pointer. I have it downstairs with me, so when I'm watching a ball game, or playing a video game and he comes looking for fun and excitement, I'll get out the laser and have him chase it around the rec room and then up the stairs. I try to point it on one of his toys at the end of play time to show him there is a reward for all the chasing.
Even with the laser game play, he was wired until after 2 a.m. early Sunday. It coincided with the second night of our daughter, and his main buddy, Brenna, sleeping over at a friend's, so I wonder if that was a factor.
Over the course of the weekend, I learned Finn is a fan of simple toys – a heavy paper bag from a gift shop, one that had sturdy twine handles. As only Finn can do, he got into the bag and then stuck his head through one handle before deciding it was time to run down the hallway. Talk about a commotion, one with a very happy cat involved.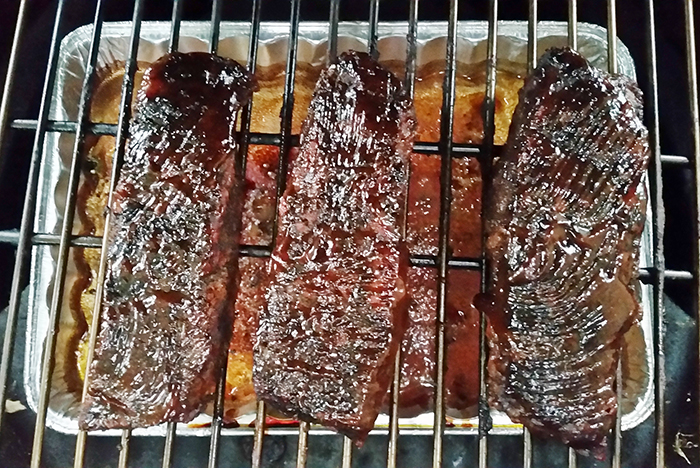 The perfect combo?
Recently, my sister-in-law Jane brought over some beef short ribs for me to smoke. I love deals like this: "I have meat and I'll share it with you if you cook."
How can you say no?
I let her choose from three different spice options for the rub – she picked Coffee Rub from Schinkels' Gourmet Meats (her sister's favourite). So I lightly coated the ribs in yellow mustard as a seasoning adhesive, and liberally added the spice on all sides, rubbing it in.
The ribs went on at 250 F for more than four hours. After two hours of me listening to music in the backyard and sipping on a cool beverage, I wrapped them in foil, adding apple juice to keep them moist, and put them back on for more than an hour.
The final stage saw me pull them from the foil and brush them with Sweet Baby Ray's Original Barbecue Sauce. Reader Ruth Draper dropped off a bottle of this nectar of the gods and I had to give it a try.
I, and everyone who tasted the ribs, am glad I did!
My wife's comment was that the ribs were the best thing she'd ever tasted. They were darned tasty, for sure.
I learned that Sweet Baby Ray's will now be part of our sauce collection; and that I should use a generous amount of seasoning rub on all long cooks.