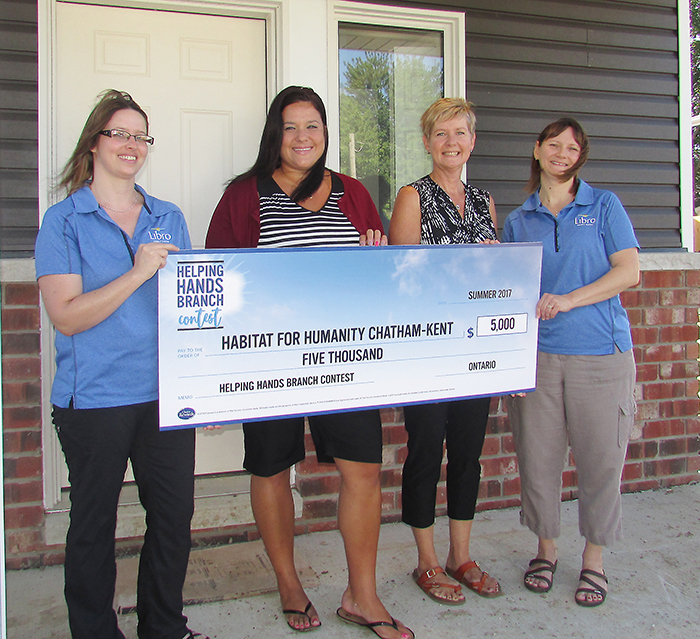 When Libro Credit Union employees learned of a contest to give $5,000 to the charity of their choice, they jumped on the idea, and had just the recipient in mind: Habitat for Humanity.
The charity is building a home for a family in Blenheim, and to the employees, that seemed like the perfect destination for the funds.
The cash comes from the Helping Hands contest, put on by a credit card company that works with credit unions, Libro's Jolene Turner said.
"We got narrowed down to three in the region. We had 31 (credit union) branches on our side, though," she said. "It's nice to see a local family benefit."
Turner said she and her family have also volunteered at the build site.
She and fellow Libro staffer Maddalena Vaughan penned a 500-word essay, urging the Helping Hands contest committee to pick Habitat for Humanity.
"Community involvement is what makes Habitat for Humanity flourish and grow. It is the love, strength and compassion that everyone has to give to another out of the kindness of their hearts; and seeing the joy in someone else makes it all worth it. Habitat for Humanity has proven this through the strength it brings to communities and the stability and prosperity it brings to families," they wrote.
"Habitat's philosophy of providing a 'hand up, not a hand out,' compliments what Libro is trying to accomplish, in that Libro's philosophy that we as employees coach and support our owners to be 'Epic Humans' by building prosperity for our collective families and communities in which we all live."
Comments
comments