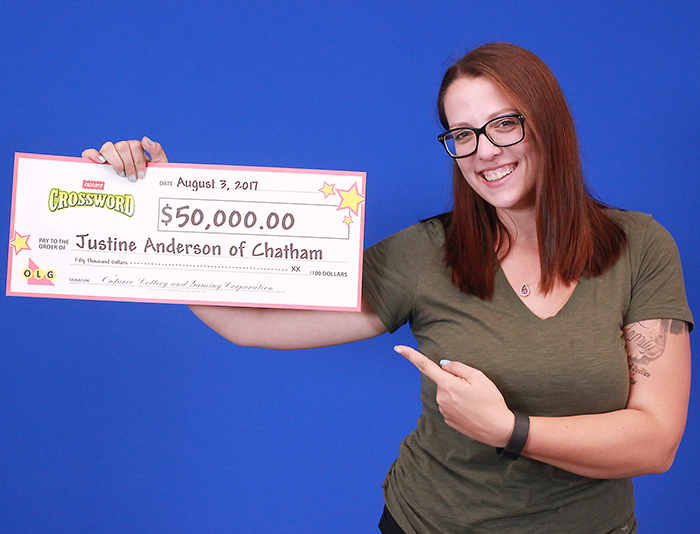 A Chatham woman is $50,000 richer thanks to a win playing the lottery.
Justine Anderson, 23, plans to pay off debt, take a vacation and help pay for a new home after winning the $50,000 top prize with Instant Crossword.
"I thought I won $10,000. I took it to the store and checked it, and it said 'Big Winner $50,000,'" Anderson said in a media release. "I spoke to the OLG representative and she told me that this was for real, and that I actually won! When it was up on the screen, I was speechless – I was excited!"
Eager to share the good news, Anderson called her parents.
"They didn't believe me at all – I had to video chat with them and show them," she said.
Anderson, a behavioural therapist for children with autism, has been playing scratch tickets for a few years. She had previously won $100 on an Instant Bingo ticket, but was not expecting a win of this magnitude.
"For me, personally, it's like a weight off my shoulders," she said.
Anderson plans to use her winnings to clear up her car and student loans, and is going on vacation to visit a friend in Nova Scotia. With the rest of the money, she hopes to soon be able to buy a house with her boyfriend.
"This win allows me not to worry and enjoy life a bit more. I'm so young so I should at least be able to enjoy it. Being stuck with debt at a young age is a burden, so this helps a lot," she said. The winning ticket was purchased at Mac's on McNaughton Avenue in Chatham.
Comments
comments