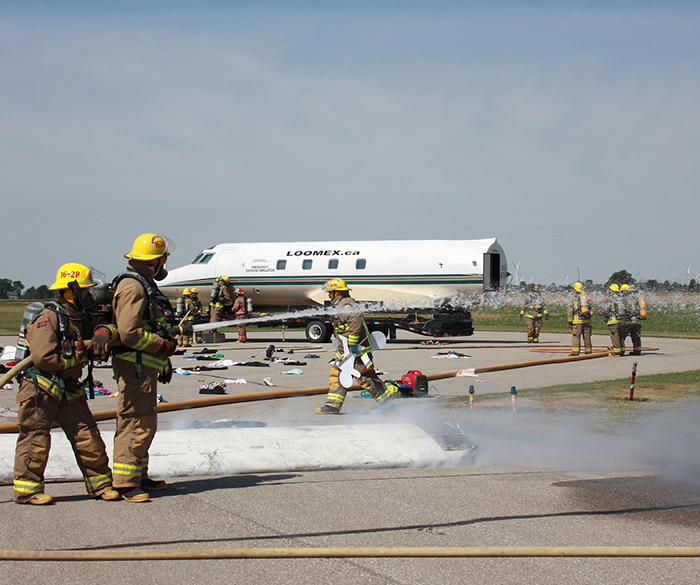 More than 90 first responders, municipal staff and partners took part recently in a training exercise, which simulated the collision of two airplanes at Chatham-Kent's municipal airport.
Local media were not invited to attend.
"The event was held in order to test the readiness of municipal emergency disaster plans," explained Chatham-Kent Fire & Emergency Services Assistant Chief Bob Davidson in a release. "It was a great opportunity for all agencies to work together and practice the protocols and procedures that are there in case our community ever needs them."
Assisting in staging and assessing the event was the Loomex Group, which brought part of a jet fuselage to the airport and prepared a scenario, which tested the ability of fire, EMS and police to respond to a major incident.
Officials were only told in advance that the simulation involved a plane crash. Once there, information was relayed to first responders by Trent Gervais, CEO for the Loomex Group, and his team.
The single plane incident turned into a collision with two planes, one of which was later found to have had radioactive materials on board. The incident was further complicated by reports that one passenger had a weapon and a hostage, leading to concerns of terrorism.
Finally, a tornado watch was thrown into the mix.
Emergency personnel responded in real-time to the incident, putting out fires, dealing with medical aid for the injured and securing the airport.
After the simulation, participating staff were evaluated, de-briefed and discussed ways to improve.
The event highlighted a high degree of collaboration and teamwork between emergency responders and the entire municipal team," said Chatham-Kent CAO Don Shropshire. "I was pleased with the result and the municipality remains committed to continual training and improvement of our emergency response capabilities."
The Municipality of Chatham-Kent participates annually in mock emergencies. The Chatham-Kent Airport completes a paper tabletop emergency annually and a full simulation every four years as required by Transport Canada.