The Children's Treatment Centre of Chatham-Kent (CTCCK) has grown and grown over the years in its efforts to meet the ever-expanding needs of families in the municipality. It's bursting at the seams, in fact, and has now secured land that will allow the centre to finally grow.
The CTCCK Foundation recently made a deal for a parcel of six acres of land on McNaughton Avenue, northeast of St. Clair College, which will serve as location of the centre's future home.
All that remains now is provincial approval – and a heck of a lot of fundraising.
Donna Litwin-Makey, executive director of the CTCCK, said the current 25,000 square-foot building on Lark Street was built in 1984 and renovated in 1998.
It's reached the point where there isn't space to accommodate all the programs the centre runs, as staff are forced to go offsite to use other space in some cases.
Litwin-Makey said in 2011, caseloads had risen to 2.5 times what they were after the last renovation in 1998, and the centre saw a 40-per-cent increase in staffing levels.
Since that time, she said they've averaged 400 new families a year and have increased staffing by an additional 20 per cent.
"The building is struggling with the caseload. For instance, in audiology, there is only one booth," she said. "We need good group room space and specialized rooms for autism and music therapy."
Beth Cummings, vice-chair of the centre's board, said consultants reviewed the centre's needs and recommended doubling the centre's space to 50,000 sq. ft.
"We want to develop a centre that meets the needs for the next 30 years," she said.
"We've decided to build a new state-of-the-art building to accomplish that."
While the Foundation has secured land, there is no money in place to start building. Litwin-Makey said the Ontario Ministry of Youth and Child Services is where the centre receives its primary funding. It hasn't approved a new build for the centre at this point, but has the CTCCK on top of the West Region's priority list, she said.
"The ministry really looks at client family needs. They are pleased we are still growing," she said.
Mike Graill, chair of the Foundation board, the folks who fundraise for the centre, said they anticipate raising about $6 million for the new centre.
"When you're outfitting a 50,000 sq.-ft. facility, that's a lot of equipment," he said, adding the foundation's efforts fuel the furnishing and equipping effort at the centre. "A sustainability fund is needed too. It's ongoing."
The quest for a new building is nothing new, Graill said, and presents just another challenge.
"We're excited about it. We've known the need has existed for some time. We've been planning with the other board for many years," he said.
Graill is very proud of the CTCCK.
"We're working with the municipality to ensure no kid gets left behind. We continue to be the model that others strive to follow," he said. "We choose to provide clients with the very best services, provided by the very best staff using the very best resources."
Litwin-Makey said the treatment centre goes way beyond bricks and mortar.
"It's more than a building, it's a community. Families look to come here and learn from each other and support each other," she said. "It's also important for us to be a solid hub for teens."
As for those bricks and mortar, sometimes accommodating for need is done very creatively.
"We take on space here. Washrooms were taken over for office space, and we've maxed out what we can do in the community," Litwin-Makey said.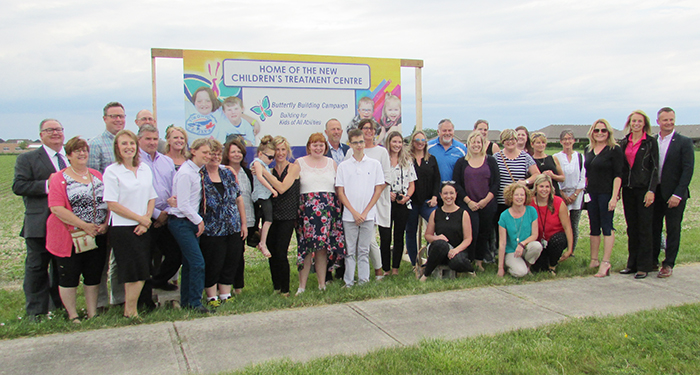 Comments
comments