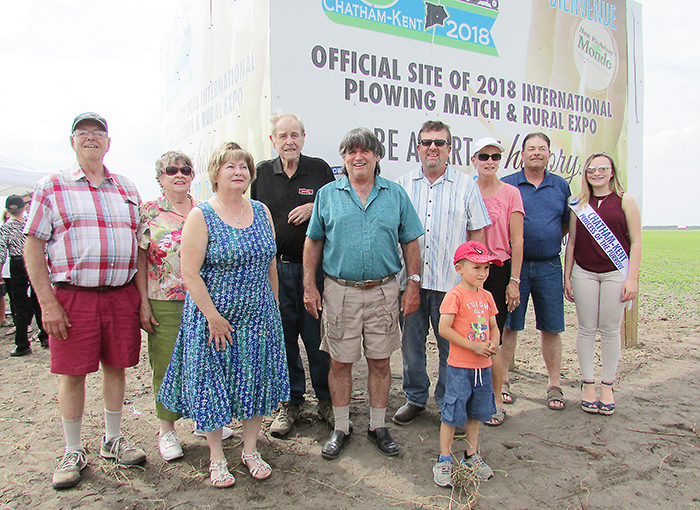 It's official – the sign is up and the committee is gearing for the 2018 International Plowing Match.
In a public ceremony Thursday, a new sign was unveiled on Pain Court Line to mark the spot where a tented city will rise in September 2018. North Kent Coun. Leon Leclair, who is co-chairing the IPM committee, thanked the members of the committee and the thousands of volunteers who will bring the event to life over the next year.
More than 100,000 people are expected to visit during the five days of the Chatham-Kent International Plowing Match and Rural Expo 2018.
A huge undertaking, the IPM Executive Committee, comprised of more than 20 members, is working in conjunction with the Ontario Plowmen's Association and more than 60 community committees, and more volunteers are needed and welcomed.
The chair of the site committee, Jean Marie Laprise with his wife Lucille, are among eight landowners providing use of the site.
"We will do whatever is necessary to ensure the success of this event in Pain Court, which will help to showcase many positive aspects of Chatham-Kent," Laprise vowed.
Joining Jean and Lucille Laprise as host landowners are Scott and Terry Pritchard, Clayton and Mary Ellen Crow, Dave Sterling, John and Juli Faubert, Lucien Laprise, the Gebal family, and Gerard Faubert.
The Executive Committee is grateful for the support demonstrated by the people and farmers of Chatham-Kent, and the mayor and council of the Municipality of Chatham-Kent. The committee also joins with Ontario Plowmen's Association to express gratitude to key sponsors, namely The Ontario Mutual Insurance Association, Hydro One, and BMO Bank of Montreal. The Executive Committee also recognizes the contribution of a growing number of local sponsors.
Jean Marie and Lucielle Laprise, with the Laprise family, said they are proud to part of the preparations for the event.
"I have met very interesting, knowledgeable and community-minded people and they are likely to be long-term friends," Laprise said. "The individuals that initiated this enormous project deserve much credit for doing so."
Laprise said construction of the tented city, expected to be home to 800-1,000 RVs on serviced lots, is expected to begin in July 2018. He also said this is a perfect opportunity to educate the public in the high-tech nature of the farming industry.
"Many people don't understand it's not all feeding chickens, cows and pigs," Laprise smiled. "If they don't learn something (at the IPM), then they weren't looking and listening. There will be food safety displays, a significant crop display with over 40 varieties of crops and the role of technology in agriculture today."
The Executive Committee reports that sales of a fundraising cookbook and other souvenirs are brisk.
For more information, visit www.plowingmatch.org/ipm2018 and link to Facebook and Twitter.
Comments
comments