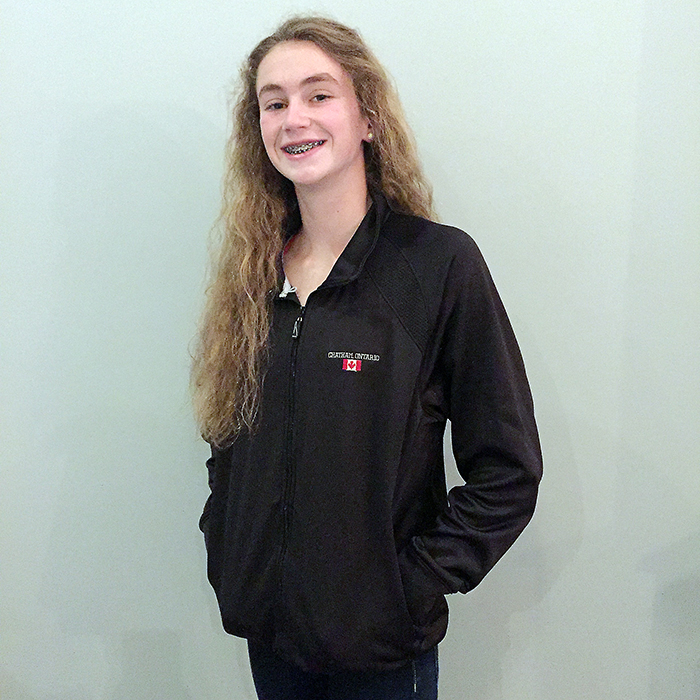 Chatham Pool Shark's Genevieve Sasseville, 14, will hit the water in Winnipeg this summer as a member of Team Ontario at the Canada Summer Games in Winnipeg.
Sasseville was one of 12 women team selected from across the province to represent Ontario. In total, 12 women and 12 men will complete the team.
Selection was based on fastest times at Long Course Championship Meets from January to April; it was her recent swims at the Speedo Eastern Canadian Championship meet that earned her a spot.
"I am very excited and honoured to have this opportunity. Being Canada's 150th birthday makes it even more exciting for me to be a part of Canada Games. I just want to swim my best and make Chatham and Ontario proud," Sasseville said in a release.
Swimmers qualified to the Ontario Canada Games Team based on a time in a specific event. Sasseville's nomination was based on her 100-metre freestyle time.
"Genevieve's selection to Ontario's team for the upcoming Canada Games in Winnipeg is well earned. It is always very rewarding to see that her dedication and commitment to improving her skills and technique resulted in this selection," coach Brian Lindsay said in a release. "The Pool Shark Family is very happy and proud of her accomplishments and look forward to her performances in Winnipeg this summer."
Performance coach Kyle Pinsonneault said hard work pays off.
"This is an incredible achievement for Genevieve. She's trained hard for two years to earn a spot on this team. Her swims at the recent Eastern Canadian Championships really put her on the national stage and guaranteed her place on the Canada Games Team," he said in a release.
The Canada Games features 16 sports and more than 250 events, and this year will mark the 50th anniversary of the Games.
The Games are being held in Winnipeg from July 28 to Aug. 15; swimming events will take place Aug. 7-11.
The Chatham Pool Sharks is a Division 2 Club and currently has nationally ranked swimmers on the team, as well as many provincial and regional-level qualifiers. This is in addition to the developmental programs offered for younger swimmers. For more information about the Chatham Pool Sharks visit www.chathamypoolsharks.com.