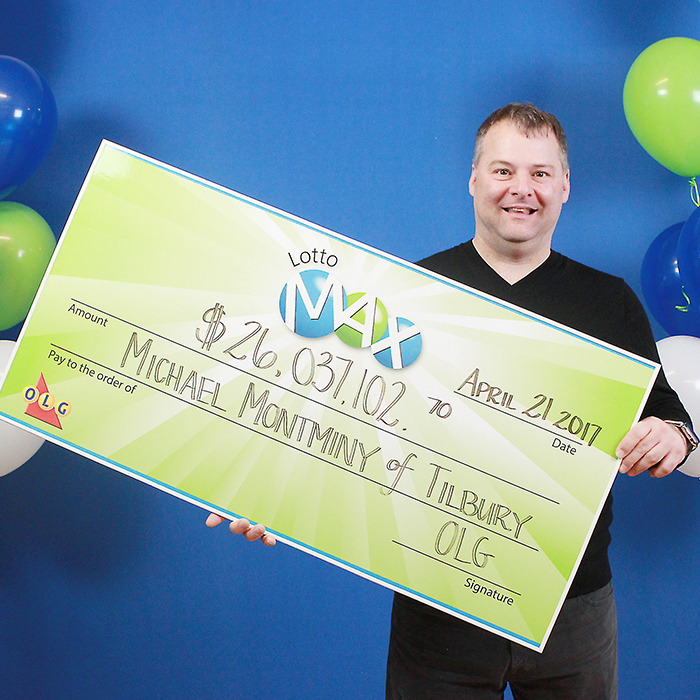 Mike Montminy of Tilbury has made good on a very big promise to his wife Trish.
"When we were just dating more than 22 years ago, I told Trish that she better hang on to me because I was going to win the lottery one day," he said in a media release.
Fast forward to February this year and … promise kept.  He won the Lotto Max jackpot of more than $26 million from the Feb. 17 draw.
Montminy checked his ticket the following day and then did something most people only ever dream about.
"Fifteen minutes after I found out I won the lottery, my wife and I both quit our jobs," Montminy said while at the OLG Prize Centre in Toronto where he claimed his windfall. "I definitely put the cart before the horse. We didn't even have the prize money yet. But I knew it was just a matter of time. I never have to set an alarm clock again."
Montminy and his wife love their new status – retired.
"It feels amazing to know that we can enjoy all our time together right now and not have to wait for our golden years. We are young enough to splurge and have lots of fun with our two kids," he said. "But we are also mature and wise enough to recognize that if we invest properly, this money will secure the future of our children, grandchildren and generations to come."
Tilbury is home for the family – described by Montminy as a small community with a big heart.
"I can't go to the mailbox without someone stopping to say 'hi' and congratulating me on the win. I am grateful for each conversation and happy that my story makes others happy too," he said. "Tilbury is the place we love and we will definitely be building our dream home right here."
Montminy just bought himself a high-performance sports car.
"Trish wants to take lots of family trips – Scotland and Italy top her list. And our teenaged children have made some requests too," Montminy said. "Our son has asked for a 4-wheeler or a snowmobile and our daughter wants help with university costs."
He and his family look forward to generously supporting the causes they care about. "Truly, the greatest gift in all this is the ability to make a difference in the lives of others. That is the biggest 'win' for me."
Montminy purchased his winning ticket at Mr. Video & Convenience on Queen Street in Tilbury.
Comments
comments