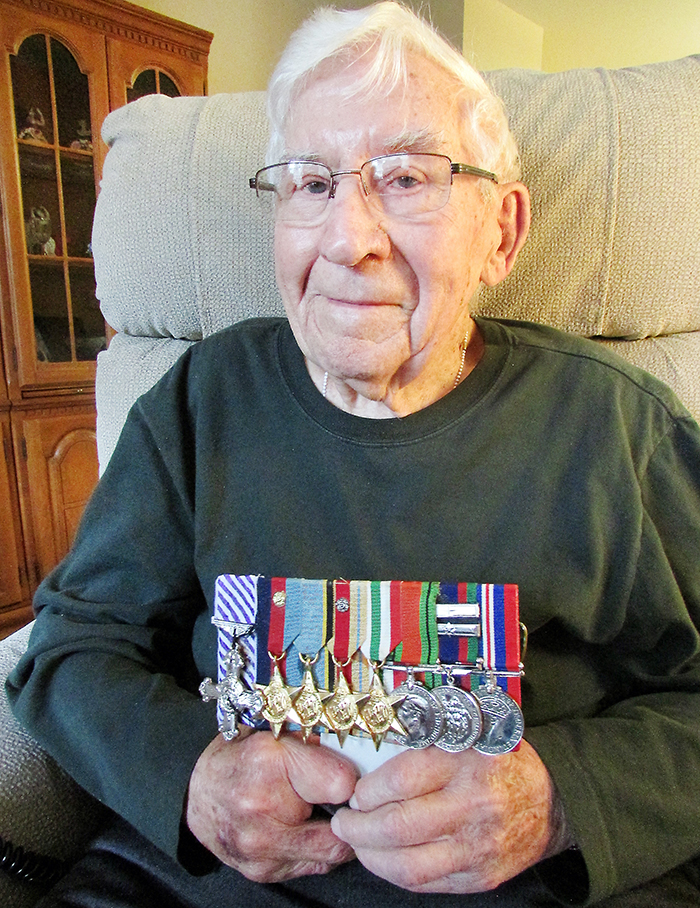 A month away from his 96th birthday, Jim Henderson spent some time with The Chatham Voice, reflecting on his time as a bomber pilot in the Second World War.
Born in Wallaceburg in 1920, Henderson enlisted in the Royal Canadian Air Force at the age of 19.
"I went to the office in London, and the recruitment officer was a person I swept floors for in Wallaceburg. It's like that old saying, 'It's not what you know but who you know,'" Henderson said. "I was interested in the air force because the army and navy had been around a while and the air force was new. If you could prove you went to school, you were in."
From there, Henderson was shipped out west where he did the bulk of his training in Weyburn and North Battleford, Sask. Training generally took from nine months to one year, depending on the trainee's aptitude, he said, on the British twin-engined Avro Anson, the training aircraft for bombers.
"It was good. I got my wings in Hagersville, Ont. (at the Royal Canadian Air Force Flying Training School)," Henderson reminisced. "When they started the war, there was a shortage of people who could really fly."
While Henderson couldn't talk about his missions during the war, he said on his very first one he asked himself, "What in the world am I doing here?"
During his time flying bombing missions piloting the Avro Lancaster, a British four-engined heavy bomber, from 1939 to 1945, Henderson saw a great deal of action.
In his 63 missions, Henderson was involved in five crashes, including a harrowing experience he survived during a bombing run over Hamburg, Germany.
"We were flying over a target in Hamburg and came under heavy fire. The plane was on fire and the only way to put out the flames was to set it down in the North Sea," the pilot explained. "I was in a life raft for three days before we were rescued."
The war involved so much death, and Henderson reflected that it wasn't just Allied military and civilians that died.
"We did the same to them," Henderson said.
As a pilot, Henderson saw action across Europe and in 1942, was stationed in North Africa, spending time in the desert.
"The RAF put us in spots where we were needed. We were mostly in the desert, not the cities or towns and sometimes provisions didn't make it. Water was a big thing," he said. "Food in the desert spoils very fast."
In the breaks between missions – bomber pilots made five trips and then would get seven days' leave – Henderson was able to do some exploring, including a trip to Aberdeen, Scotland to meet his grandmother.
"I went to visit her and in her kitchen was a broken skylight so I fixed it for her," he remembered.
Looking over pictures from the war, some depicting the aftermath of bombing runs in Germany that left hospitals and churches intact, Henderson focused on a picture of a bridge over the Rhine River in Germany.
"This was in Dusseldorf. The Canadian engineering corps built that bridge so they could move heavy equipment," Henderson said.
Another picture showed a reunion of his seven-member crew two years ago in front of a Lancaster bomber in the Canadian Warplane Heritage Museum in Hamilton.
No stranger to tragedy, Henderson was witness to a crash landing of a bomber that claimed the lives of all the members on board.
He also met another pilot, a woman from Wales, who was interested in Canada, and from that meeting a romance and marriage ensued. Tragically, after 18 months of marriage, Henderson said her plane was shot down.
He continued his missions as a pilot, and as the end of the war approached in 1945, Henderson said he wasn't that surprised when he was told the Germans surrendered.
"I was in England, on the east coast of England visiting a friend in the hospital when I heard," Henderson said. "We could see the end of the war was coming."
After the war, discharged with the rank of Squadron Leader, Henderson came home by train, meeting his family at the former CP Rail Station in Chatham. He settled back in Wallaceburg, where he married and started a family.
In recent years, Henderson received a letter from the Canadian Minister of Veteran Affairs, awarding him the Bomber Command bar to recognize Bomber Command veterans for their service and accomplishments. The bar is affixed to the ribbon of Henderson's Canadian Volunteer Service medal.
Comments
comments