YA Canada employees, management and head office personnel celebrated the move and expansion of the company's Chatham offices Wednesday. From left,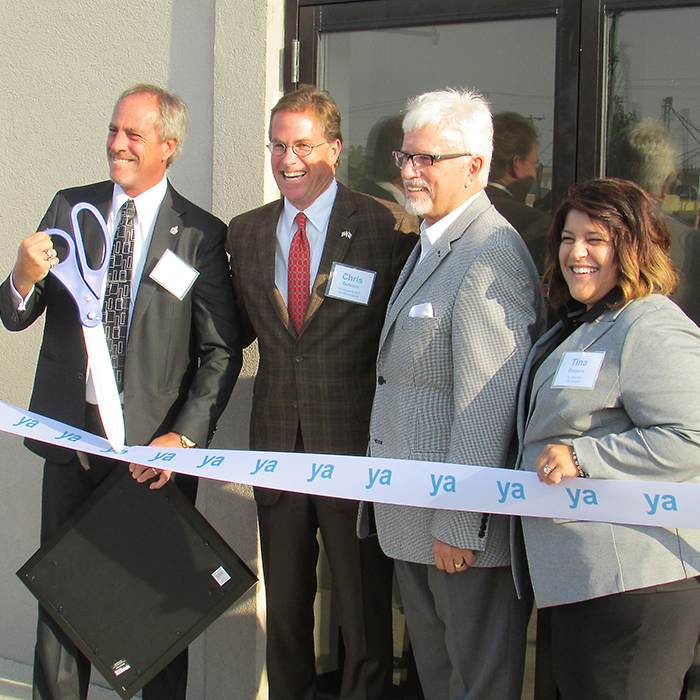 YA Canada officials opened the doors to 730 Richmond St. Wednesday to celebrate the company's recent expansion in Chatham.
The call centre moved earlier this year from just down the street to the new location, tripling its floor space and doubling its Chatham workforce to 160 from 85.
YA president and CEO Chris Behrans credited the efforts of municipal staff for helping to make the expansion a reality, calling the mayor "a good friend of YA."
He stressed it is the staff at YA Canada in Chatham that convinced him to commit to Chatham and expand here.
"None of it could have happened without the YA employees here."
Behrans said YA has come a long way in a short time. While it has had its Canadian location in Chatham for the past 14 years, there were some speed bumps.
"Three years ago, the business was not doing well," he said. "It took a lot of change to digitize the work service. We've been able to double revenue and triple profitability, tripling the office space here and doubling the staff."
He said YA also increased the wages to staff.
"This is a place where people want to work. It's great to see the finished product today," Behrans said. "The wage increase is a reward for staff for hanging in there."
Mayor Randy Hope described the expansion as a revitalization, allowing YA Canada to compete in a global marketplace.
He credited economic development personnel with helping to make the expansion in Chatham a reality, singling out Geoff Wright, an economic development officer with the municipality.
"The staff at economic development has been excellent," he said. "Our commitment to working with companies shows we will go the distance for them."
Rick Nicholls, MPP for Chatham-Kent Essex, also praised municipal economic development officials.
"Economic development works very hard to bring business and industry to Chatham-Kent," he said. "YA Canada provides full- and part-time jobs – up to 160. They're growing the community right here in Chatham-Kent."
A tour of the building revealed employees have the latest technology to work with, and there are areas of the building that feature heightened security to protect the information of a number of their clients.
YA serves the likes of Whirlpool, Pepsi and T-Mobile, Behrans said.
Hope added the YA expansion includes some high-tech features.
"We are becoming a community of technologies; a community of at-your-fingertips," he said.
Behrans said the latest expansion, including the doubling of the workforce, is slated to be in place by early November.
He added more expansion in Canada is also in the works for early next year. By the end of the first quarter, YA hopes to have sales personnel working out of a Toronto office, and hire as many as 60 more staff for the Chatham centre.
"We're serving the Canadian marketplace from within Canada."
Comments
comments