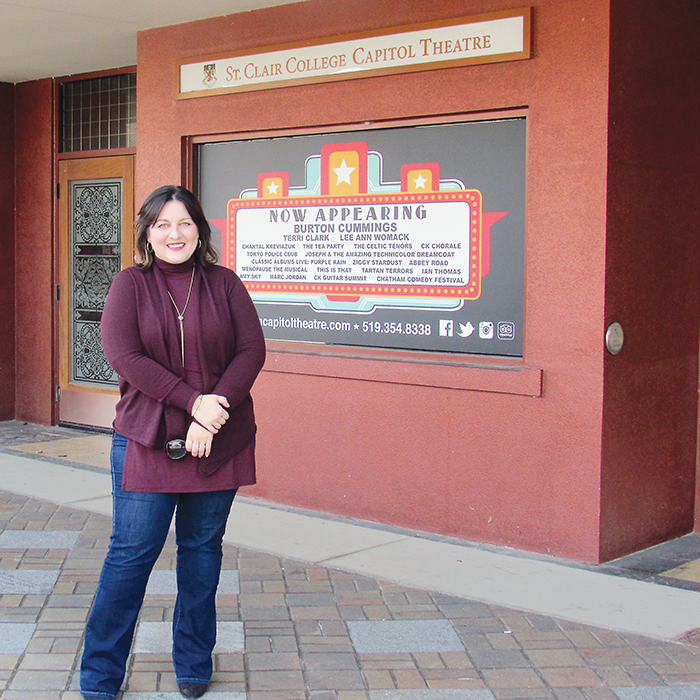 Rachel Schwarz has a vision of the Capitol Theatre and it's one she wants to share with the community.
"We have a world-class facility here and it's something that should be valued, treasured and above all, used," she said.
Schwarz' Studio Black company is one of three groups to have placed a bid to operate the theatre.
The other two are from the municipality of Chatham-Kent and London, Ontario based Jones Entertainment Group.
Although she's unabashedly a hometown booster, Schwarz' enthusiasm isn't that of a wide-eyed amateur.
She holds a Bachelor of Music and a Master of Music in Vocal Performance and Literature from UWO.
She has performed across Canada, the United States and Europe and has nearly two decades of experience in the creative sector.
"This isn't something I'm taking lightly," she said. "We have tremendous opportunity to use the Capitol to highlight the potential of our community," she said. "It can be the cornerstone of something that will help put us on the map in any number of ways."
In order for the theatre to succeed, Schwarz said the facility must expand its presence and reach right across the community.
"We need youth engagement, we need adult community involvement, we need more access to the entire building, to be able to host events for 150 people instead of just 1,200 and we need to continue to bring in a selection of high-profile acts which fulfill the idea of a major entertainment venue."
Schwarz' company has produced community programming involving hundreds of local singers and actors including highly successful productions of musicals such as West Side Story and Joseph and the Amazing Technicolor Dreamcoat which debuts in November.
"People who have seen our productions for the first time are blown away by the amount of talent we have at our disposal," she said. "We have an enormous pool of talented people in virtually every sector of entertainment. It's a secret we should be sharing."
With more than 300 children having taken part in her Chatham-Kent Children's Chorus program and 100 adults with stage experience, she said mounting top-drawer productions has been possible.
She says, however, a major part of the facility's success will be to use it as a support for teaching, workshops, a gallery and a place for artists.
We should be open as much as possible and accessible to as many people as we can," she said. "We need to dispel the belief that the Capitol is for this particular group or that particular purpose. It belongs to the community."
Schwarz harbours no illusions about the facility being a large profit centre.
"If successful, we will be establishing a non-profit board to oversee operations," she said. "Ontario has recognized that the cultural sector is among the fastest growing economic sectors in the province. As a non-profit we will have access to funding and programming not otherwise available. With our history and culture here, we are on the brink of something special. We just need faith."
She said with competition for highly skilled workers, communities that include a rich cultural and arts sector will do better.
"We're a welcoming community and the more we show that we're progressive and forward thinking, the more interest we will gather."
She said she's concerned that turning operation of the theatre to a group outside the community will cost local jobs and restrict its use.
"We need the broadest possible use and the realization that we don't need to make a profit each time we open the door," she said. "Small and local doesn't mean second class. We can do this."
A committee under the community development department will examine the three proposals.
A recommendation will be made to Chatham-Kent Council this autumn.
Comments
comments