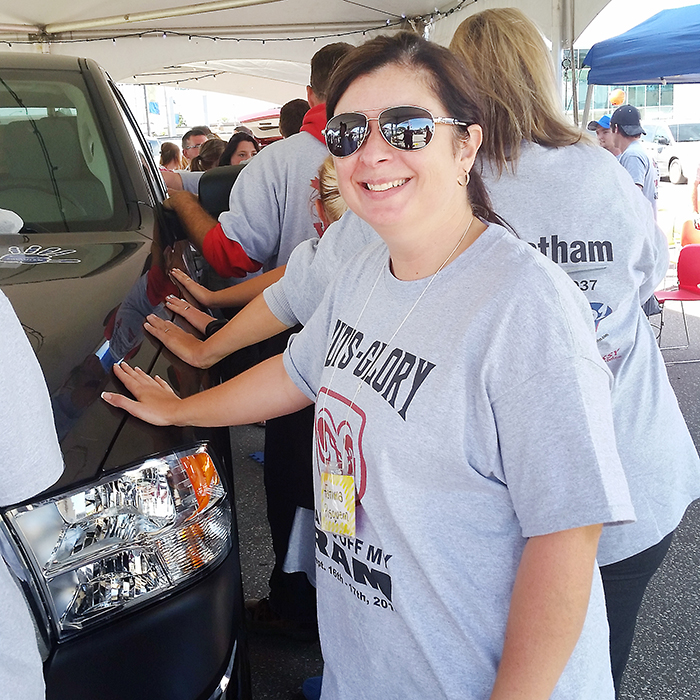 Editor's note: Chatham Voice circulation manager Fatima Pisquem participated in Chatham Chrysler's Hands Off event on the weekend, and discusses the challenges she faced – and the fun she enjoyed – during the event.
The Chatham Voice is a big supporter of Chatham Chrysler's Hands Off! event. I have helped out in the past by volunteering at previous Hands Off! competitions. I never really expected I'd be participating in one.
But as soon as Bruce (Corcoran) drove up with that truck one day, I wanted in on the contest. And then when I drove it – a 2016 Ram 1500 Crew Cab 4×4 – I thought, "I really want this truck!"
So I entered, filling out about five ballots, and I was lucky enough to have my name pulled. And to think one guy – Aaron Hurst – put in 3,000 entries! But he also raised the most money (more than $1,400).
Once I learned I was on the truck, I had some planning to do, and money to raise. I asked friends and family to support me. And they did, not just with money, but with non-perishable food items for St. Vincent de Paul, and they came out to cheer me on.
My main concern before the contest was my arm and hand. I tried to figure out the best position for my arm. I didn't want to worry about my arm bothering me all night.
I chose the front left fender, using up all the charity money I had I raised to "buy" the first spot on the truck. It worked out well.
And then other people started getting on the truck. I was amazed how many people could fit around it. There were 36 of us. The final two people squeezed onto the truck on either side of me.
And that was OK. We were like a family. We'd lean on each other; scratch each other's itchy spots. We had each other's back.
It was also nice how Corey North from CKXS kept coming every hour to talk. The guy in front of me was so close to me, Corey would ask me for an update on "The Pit Report." My nose was basically in Dylan Murphy's armpit.
A guy I went to high school with, John Haggerty, was in the competition too. There were other people I knew as well. Joel Desjardins, another contestant, would shout out our names every once in a while to check up on us.
Through it all, Chatham Chrysler's staff and the volunteers were awesome. Wendy Bloomfield was great, keeping us going, playing games. She was always so energetic and funny.
She had us singing lullabies, chanting nursery rhymes, playing The Price is Right games and picking numbers to win smaller prizes. They did a great job keeping participants entertained.
Wendy played games with the people who came to watch as well. She helped keep everybody going. It wasn't just about us.
When she was offering prize packs, sometimes nobody would take them. She'd go up to a couple of guys who were single and tried to set them up with one of the radio personalities. It was hilarious.
The volunteers were really good with checking up on everybody. We appreciated that.
I had a lot of my family, my work family and friends come out to support me. It made me feel really great.
With all the fun and support, time went by fast. Suddenly it was probably 2 a.m. or 3 a.m. – I hadn't had a break at all – and I realized I'd been on the truck for 14-plus hours. I was shooting for the truck. I had my doubts, but I wanted it. I also wanted to see how long I could do it.
The rest of the night went by in a blur. I don't even remember much. The night just went by and it was suddenly morning.
Finally, I took a break. I had just a two-minute change-of-clothing break and a washroom break. I had saved them and it turned out to be a good strategy.
When I got off the truck for that last break, I asked my brother to get my stuff ready. I had to change my shoes, eat something and drink something and be ready for the morning challenges.
I started to stretch my legs after they warned us the really difficult challenges would start just after noon.
They were offering prize packages, and people were slowly taking them as the challenges started happening.
We were tasked to stand on one leg, with the other one bent at the knee at a 90-degree angle, with our eyes closed. We would alternate legs.
Then we did the squatting for two minutes. I managed to do that. That's where four people dropped off.
The three-minute one was next, with our eyes closed.
You could hear our support from friends and family. It was appreciated.
But my hand started sliding. I was sinking downwards and couldn't get myself up. I lost my concentration. My brother and someone else stopped me before I fell back and knocked anyone else off the truck.
I was done.
A volunteer grabbed me a chair. I couldn't feel my legs. I couldn't move. I had to sit down for a couple of minutes.
I still won a remote car starter and a Schinkels' gift card, as well as some other prizes from the various contests.
I stuck around to cheer on my "family" that was still on the truck. I was there to support everybody all the way to the end. I knew from the support I received that giving them some would help them hang on.
Overall, it was a good time and good experience.
I went home that afternoon and drank lots of water. I just wanted to shower and go to bed.
But I got up at 7 p.m., ate something and slept until 11 o'clock Sunday morning.
I felt OK Sunday. I ended up having dance practice that afternoon. After that, I was starting to feel it in my legs.
Through it all, I think I'd do it again. But I'd practice my squatting. And I'll continue to enjoy the Mustang I drive.
Comments
comments