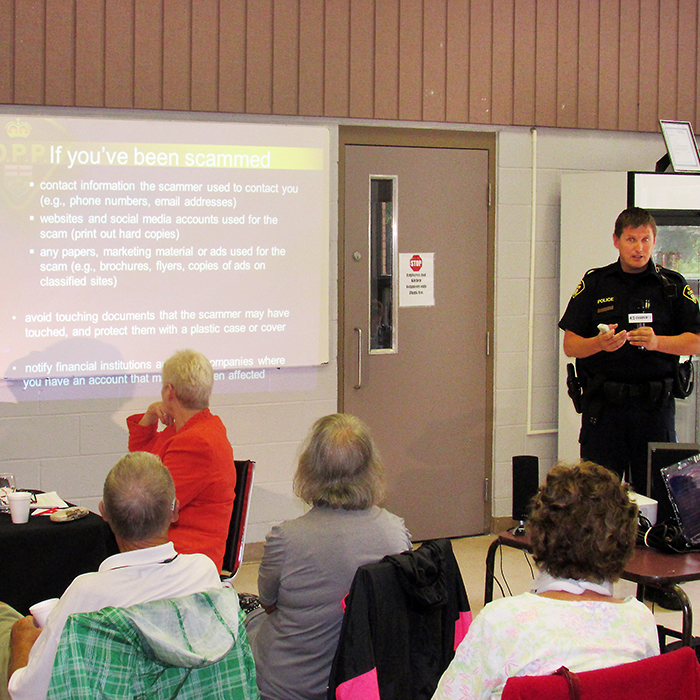 Today's seniors are targeted more than ever before by an increasingly sophisticated criminal element according to Const. Jay Denorer of the Chatham-Kent Ontario Provincial Police.
"These are people who have no conscience and no problem with taking every last dollar from victims," he told more than 40 people who attended a town hall seniors' safety meeting held at the Active Lifestyle Centre.
Denorer said thieves' methods range from use of the most sophisticated online and electronic scams to "dumpster diving" when they go through garbage looking for personal mail."
"If you receive a credit card application you don't want, don't throw it away, shred it or tear it into a thousand pieces," he said. "A thief will come along, fill in the information and end up with a card in your name."
Denorer said the Canadian Revenue Agency (CRA) scam in which callers' pressure people to pay them money in the name of the tax-collecting agency, has cost Canadians millions.
"The number one thing I tell people is if they are getting requests for money or personal information from someone they don't know is to just to hang up," he said. "No real government agency or business contacts people that way."
He recommended seniors get a credit check so they are aware if someone has taken out a loan using their identity.
"Information is power," he said. "You want to make it as difficult as possible for scammers to make you a victim. They want do to things the easy way and if you don't let them, they will move on."
He said if you believe you've been scammed, contact police right away.
"There's nothing to be ashamed of, these people can be sophisticated and quite good at what they do."
Chatham-Kent-Essex MPP Rick Nicholls, who arranged the event, said he did so in response to the need in the community.
"Most of us who are middle aged or older grew up in a trusting world," he said. "We want to believe people are good, and most are, but there are enough of the other kind out there so that we have to be careful."
Denorer provided a number of links that can be used to get more information on scams.
The little Black Book of Scams – http://www.competitionbureau.gc.ca/eic/site/cb-bc.nsf/eng/03074.html
RCMP – http://www.rcmp-grc.gc.ca/scams-fraudes/index-eng.htm
Canadian Anti-Fraud Centre – http://www.antifraudcentre-centreantifraude.ca/index-eng.htm
Ontario Association of Chiefs of Police – http://www.oacp.on.ca/
Consumer Information – http://www.consumerinformation.ca/eic/site/032.nsf/eng/00044.html
Report a scam – https://www.ontario.ca/page/report-scam-or-fraud
In addition to Const. Denorer, the town hall meeting included speakers Karen Kirkwood-Whyte and Patricia Weiler of the United Way speaking about the 211 information system, Jodi Maroney of the Chatham-Kent Hospice who spoke on gift planning and Mona Anthony who discussed estate administration tax.
Comments
comments