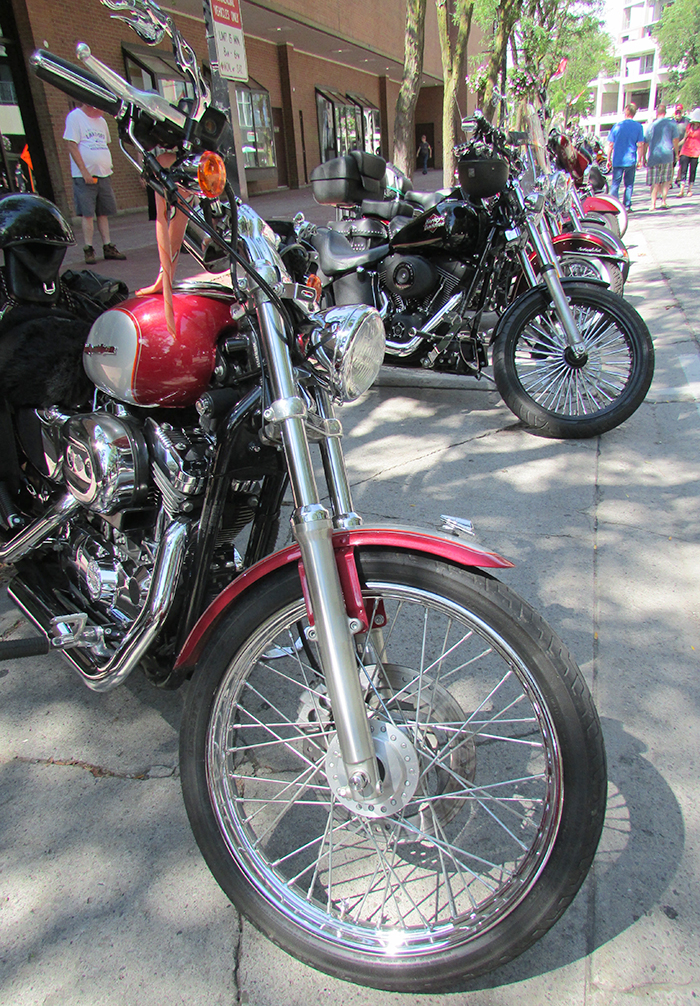 Late afternoon rain showers weren't even enough to dampen the success of the 2016 BikeFest in Downtown Chatham Saturday.
A yearly fundraiser for Big Brothers Big Sisters of Chatham-Kent, BikeFest drew in in excess of 200 riders, who rolled onto King Street from Wallaceburg with a police escort Saturday morning. Lining the street from William Street to the Cenotaph, bikes – from three-wheelers to custom to vintage – were on display in the Showcase and for visitors to view.
"We are really, really pleased," said Nan Stuckey, executive director of BBBS. "We had more riders, more vendors and even though it poured rain about 3:30 p.m., it was still a great event."
Even with lost revenue at having to shut down the beer tent and 50/50 sales at 8 p.m., instead of 11 p.m., Stuckey said organizers estimate raising about $35,000-$45,000 – more than they have ever raised before. She said once all the bills are in, she will have a more accurate number.
"We had more than 200 bikes in the ride and about five times that amount downtown," Stuckey said.
Bike enthusiasts came out in force to check out the vendors and entertainment in Tecumseh Park, and take a look at all the different styles, colours and makes of motorcycles.
The 50/50 draw purse of $4,832 was won by Diane Moreau of Wallaceburg, and the raffle winner of the  2016 Harley Davidson FLSTC Heritage Softail Classic was Augie DesMartinis of Chatham.
Day two of the festivities included a HOG (Harley Owners Group) Poker Run hosted by Duke's Harley Davidson that brought in $1,500 for BBBS.
Comments
comments