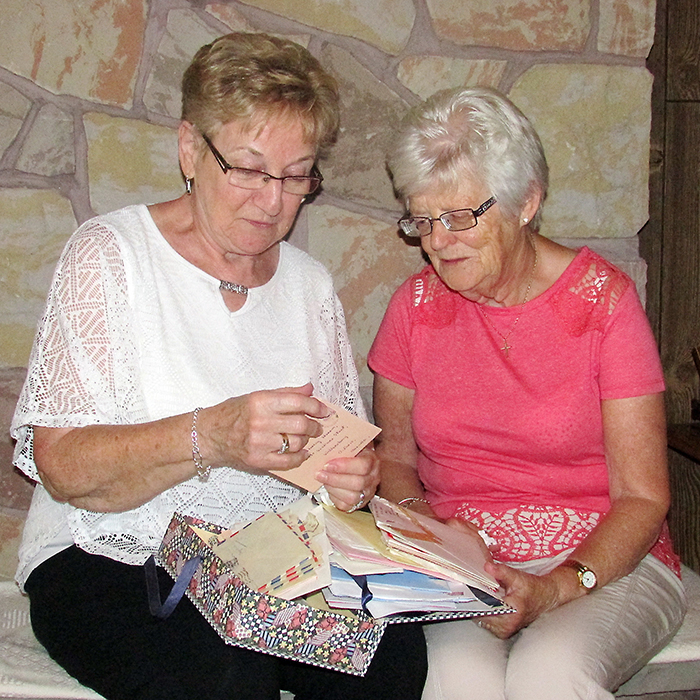 In this electronic age, putting pen to paper may seem quaint, but to Shirley Perritt and Kathleen Morton, it's been a bond that has kept their friendship alive for 65 years.
It was in 1951 that Shirley, a student at D.A. Gordon School in Wallaceburg, was asked by her teacher to write to Kathleen, who lived in Egremont, in the Lakes District of England.
"I believe my teacher knew Kath's teacher in England," Shirley said. "The government was involved in helping these pen pal exchange programs."
Kathleen spent the better part of the last two weeks with Shirley and her husband Jim at their Thamesville home.
It was Kathleen's seventh visit to Canada while Shirley has been to England twice.
"We just hit it off right away," Kathleen said. "We had so much in common. We could talk about anything."
Asked what they share, both answered simultaneously "shopping" and burst into laughter.
The similarities in their lives extended to their families as Shirley's husband Jim and Kathleen's husband Charlie (who passed away last year) were both quiet men who enjoyed hobbies such as fishing.
The two couples had sons the same age, (Steve and Antony, respectively) and daughters (Karie and Carole) the same age.
"We seemed to be just in sync in a lot of ways," Shirley laughed."
The Perritt's third child, daughter Tracy, fell in love with Charlie when the Morton's first visited Canada in 1981.
"Tracy latched onto Charlie and they would swim the length of the pool together," Kathleen said. "They were great buddies."
"The minute we met we just hit it off," Shirley said. "We both like a laugh and we really understand what's on each other's minds, even if she says I mumble, and I don't always get her accent," she laughed.
In the beginning, the girls wrote about the things in their lives such as school, roller skating, bike riding and boys they met.
As they grew older, the women wrote about families and friends.
"I feel like I know Kath's friends," Shirley said.
"If she writes me something about so-and-so I can relate to it."
Visiting each other has meant going places and meeting people the couples wouldn't have otherwise seen.
"We've taken Charlie and Kath to all kinds of places throughout Ontario and when we've been able to tour England and Scotland," Shirley said.
The couples have also shared vacations in the United States.
Both said they wouldn't trade the paper letters they right for e-mails or texting.
"There is something so personal about knowing the person who sent you the letter sat down, took the time and wrote it by hand," Shirley said.
"I know her handwriting just as I do my own," Kathleen said.
Although the women would like to visit each other again, both acknowledge the cost of travel insurance for seniors is an issue.
"We'll take things as they come," Kathleen said.
The pair estimate they've sent hundreds of letters to each other over the years.
"Jim teases me about my "journal" because I write such long letters to Kath," Shirley said.
"We've been lucky," Kathleen said. "It has been a great friendship and I treasure it."
Comments
comments