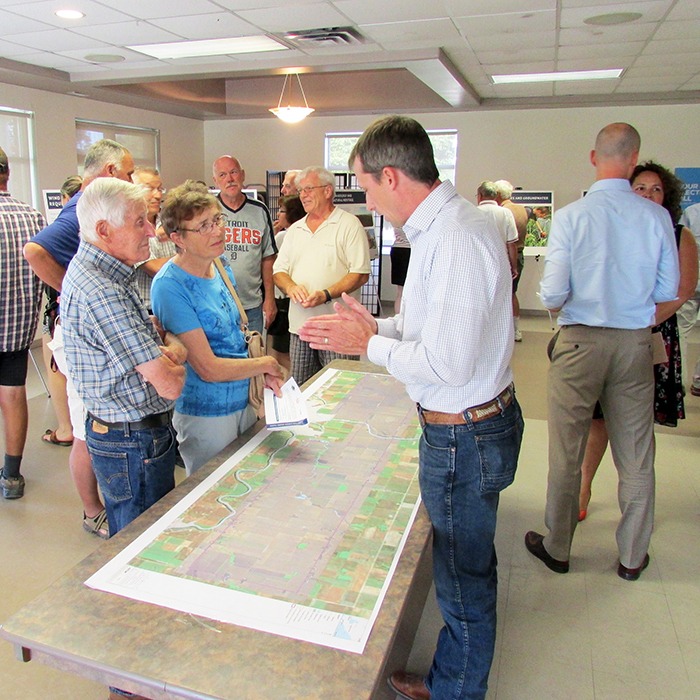 A firm slated to install up to 20 wind turbines north of Wallaceburg within the next few years says it has never had any problem with its developments effecting water quality.
Adam Rosso, project development director for Boralex, a major stakeholder in the Otter Creek Wind Farm said his company has been made aware of the water turbidity issues in nearby Dover Township.
Boralex, Renewable Energy Systems and the Walpole Island First Nation are developers of a 50-megawatt project including up to 19 turbines.
Chatham-Kent has an option to become a minority partner as well.
At a public meeting in Wallaceburg Tuesday Rosso said it is too early to tell if the company will use the same "piling" foundation technique as that being cited as the reason for poor water quality in Dover Township.
"Possibly," he said. "Piling allows a foundation to be more stable but we aren't even close to an understanding of what the design might look like or where are turbines will be located."
He said his firm understands groups such as Water Wells First are concerned about groundwater.
"So are we – that's why we want to engage with landowners to understand where people's wells are so we're aware of any potential problems," he said.
He said his firm built 45 turbines in the former Dover Township from 2007-2009 and has never had a complaint.
The Wallaceburg meeting took place over a three-hour period and attracted approximately 100 people, however, some landowners were critical of the format.
"This isn't a meeting, it's a bunch of signs scattered around a room," said Al Kerkhoff, whose family owns some 1,000 acres in the Otter Creek target area.
"There is no presentation, they can tell one person one thing and someone else another," he said. "People remember that from last time they met. It's slick presentations. The only way to find out what's really going on is to sign up with them and then you're forced into a confidentially agreement."
Larry Janssens, who farms in the area, said he's doubtful the wind farms have the best interests of farmers at heart.
"There are lots of people who are testing their water right now to get a base line measurement," he said. "If the turbines ruin the wells here, good luck trying to get money out of the wind farms without plenty of evidence and good lawyers. We have to look after ourselves because no one else will."
North Kent Councillor Leon Leclair said although
he is in favour of the project, he wants to ensure
ground water is protected.
"People are scared and I understand that but we need to find out a lot more information," he said. "We need an approach of citizens' first, then turbines."
He said the idea that project management will try to avoid areas with wells makes him optimistic.
"It's a lot easier to avoid a problem in the first place then to have to come back later," he said. "They appear to be looking at using a different technology."
Calvin Simmons, a member of Water Wells First, attended the meeting to call for involvement by the provincial Ministry of the Environment and Climate Change.
"We believe turbine installation may be responsible for water problems in Dover and they need to look into this in conjunction with the wind company," he said. "An independent set of eyes is needed."
Rosso said there would be another open house in December but information about the location of the turbines will be made public 60 days before the actual meeting date.
The company plans to submit its Renewal Energy Act application in the winter of 2016/17 with construction to start in the spring of the following year and operations that fall.