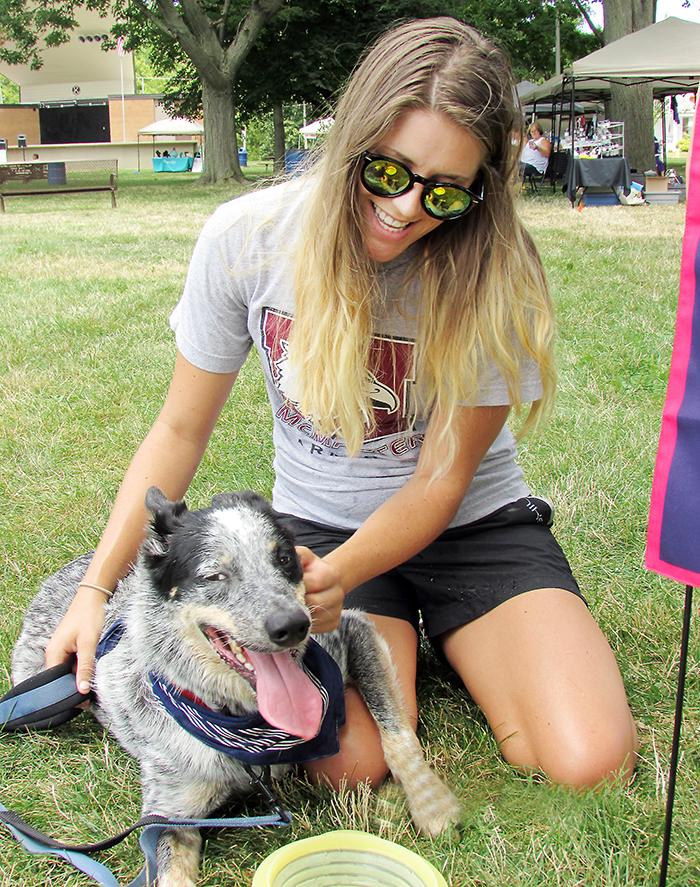 There was a lot of sweating, panting and flopping down in the shade of Tecumseh Park Saturday … and that was just the humans.
At the inaugural I Love Dogs Festival fundraiser hosted by CK Animal Rescue, you could say the heat was a factor, but it doesn't stop vendors, dog trainers and dog lovers from coming to check it out.
With kiddie pools full of water, sprinklers and hoses to keep their canine companions cool, people checked out more than 30 vendors, and demonstrations put on by Essex County K9 on agility and other training techniques.
As a fundraiser and awareness event, the organizers were pleased with their first year, despite the heat.
Letty Meadows, vice-president and adoption co-ordinator, along with Stacey Gore, secretary and volunteer co-ordinator, said they planned the event to get the name of CK Animal Rescue out there and involve the public in an event for the whole family, including four-legged friends.
The organization, which was founded in 2010, rescues dogs from no-kill shelters in the southern United States, and locally, accepts dogs from owners who no longer want them or can't take care of them. They also foster pets temporarily for people who are sick or hospitalized, and victims of domestic violence until they get back on their feet.
Gore said they also have a program called Purple Leash which is a permanent foster program for medically fragile dogs, who still have some life left in them.
"They get to live out their rest of their lives in good homes with permanent fosters and CK Animal Rescue covers their medical costs," Gore explained.
Meadows said they got a great response from vendors and advertisers and plan on making the festival and annual event.
For more information about the group, go to ckanimalrescue.com or call the office at 519-354-5000.