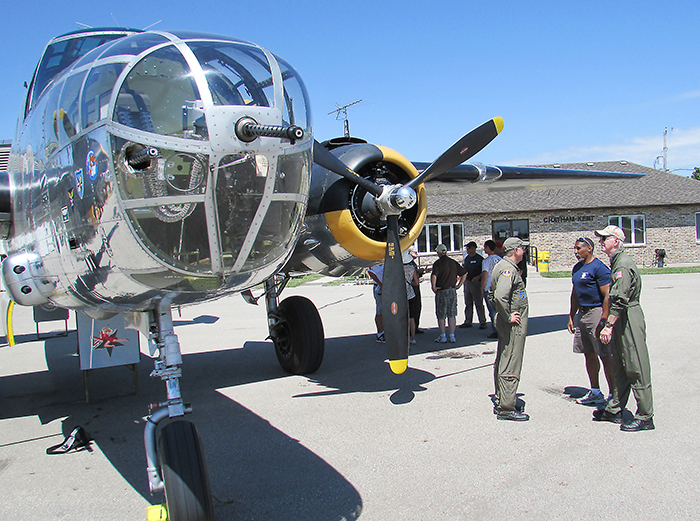 Mother Nature brought the heat, and the organizers of CK Flight Fest brought the vintage aircraft on the weekend.
Despite the former, the event drew hundreds of onlookers to check out the latter on Saturday at the Chatham Municipal Airport.
Bruce Davidson, a co-organizer of Flight Fest, said the event is a fund and awareness raiser for the 294 Chatham Kinsmen Air Cadets.
Only a matter of days before the event, organizers learned the feature aircraft, a DC-3 Dakota transport aircraft that had served in the Second World War, would not be able to attend. That left Davidson and fellow organizer Brent DeNure scrambling.
But thanks to their ties with The Yankee Air Force Inc., they found a very suitable replacement in a B-25 Mitchell twin-engine medium bomber. The group sent The Yankee Lady, a B-17 heavy bomber two years ago to Chatham.
Both planes served in the Second World War. Davidson said the B-25C flew sorties over Italy.
"We established a good relationship working with them a couple of years ago," he said of The Yankee Air Force Inc. personnel.
For a fee, the Mitchell took people up for a flight over Lake Erie during Flight Fest, similar to what the B-17 Flying Fortress did two years ago.
There were other vintage aircraft at Flight Fest, including a Harvard trainer from the Canadian Historical Aircraft Association out of Windsor, and a de Havilland Vampire decked out in RCAF markings. The fighter, which was the first jet plane in the RCAF, flew in about 8:30 a.m. and was on static display for the day.
Davidson said the warm weather Saturday made it a bigger challenge for the hot air balloon team that took people up for morning rides. To get the balloon to rise, the air inside must be significantly hotter than the surrounding air. That meant they burned a lot more fuel, and actually ran out about 10 a.m.