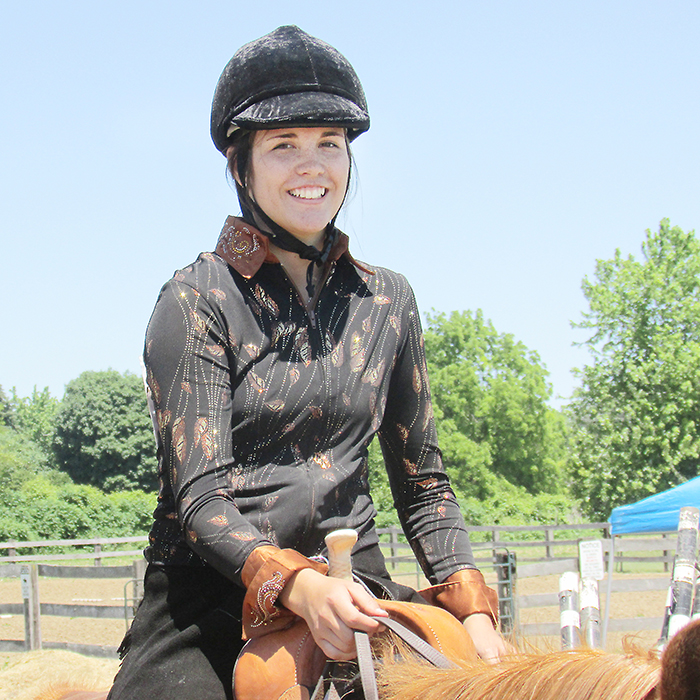 With a brand new show ring, a strong and growing membership and a committed executive and volunteer base, the future of the Dresden Saddle Club looks as bright as a polished belt buckle.
The club held its first show of the season June 12 with more than 50 riders competing in a variety of events.
Club vice-president Jenn Pietens said the all-breed club, founded in 1999, has more than 100 members, some from as far away as Windsor.
"People like the atmosphere at our club," she said. "Sandra (Satchell, the club president) is able to keep things running on a smooth basis so everyone is able to enjoy their horses and have fun."
The club has members of virtually every age group but is particularly interested in young people.
"They're the future, and they have so much energy and enthusiasm," she said.
One such person is 16-year-old Jayden Mallette of Wallaceburg who took a job at age 14 to be able to afford her horse.
"Colby was injured in a trailer accident before I knew him and he had a bunch of problems with his back and stuff," she said. "The stable he was at was closing and I didn't want him to go to the wrong place so I bought him."
In addition to working at a fast-food restaurant, she works off part of Colby's board at his current stable.
The club hosted a high school challenge for young riders on June 4.
Sue Shaw of Wallaceburg, a club member for several years, just got her latest horse "Happy" just days before the competition.
"I just got him Wednesday," she said. "I'm leasing him from a friend in Windsor. His registered name with the American Quarterhorse Association is Quixote's Nuance."
Although she only had a couple of rides with Happy, the duo finished third in the Adult Western Pleasure category.
Shaw said horse owners share a love of animals that creates lasting bonds of friendship.
"My friend from Windsor took me to Tennessee to trail ride with her last October. I rode one of her Tennessee walkers in the mountains. What a treat. We rode every day for six days. I'll never forget it."
Not only do members compete locally, there are those who have done well in national and international competition.
"Club members have competed in the All-American Quarter Horse Congress in Ohio," she said.
"Everyone takes something on an individual basis," she said. "It's about enjoying your horse and doing something you care about. You don't have to want to go to the congress to be part of the club."
Pietens said the club operates a concession stand during competitions and there is no charge for anyone who wants to come out and watch at its facility adjacent to the Dresden Raceway.
The group holds fundraising events and depends on sponsors that include Sentry Fire & Safety, Chatham Police Association, McGrail's Farm Equipment, Harold North Trucking, Rubies Inc. (Gifts & Engraving), Royal Bank-King Street- Chatham, Bridget Goldsmith, Star Trucking, Dresden Foodland, Hair Tree Therapy, Equine Retreat and Zoula Stables.
The next competition is Sunday, June 26 at 9 a.m. The judge for this show is Steve Preszcator.
Other show dates are July 31 and August 21.
For more information about the club, click here.