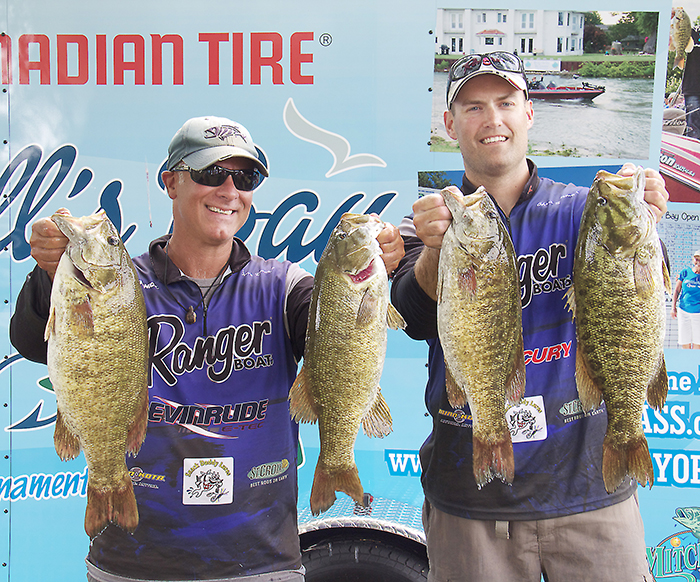 The third time was a charm for local fishermen Dave Demers and Chris Sherman as they pocketed more than $7,000 at the Canadian Tire Mitchell's Bay Open bass tournament.
After finishing third the first year and second last year, the pair bested 40 other teams to take home first place with a total of 45.57 pounds of bass.
"It took a lot of work," Sherman said. "We had a lot of different conditions to work with."
After a scorching hot day Friday with temperature and humidex readings reaching into the upper 30s, Saturday saw cooler weather and an increase in winds.
"It was totally flat the first day," Demers said. "Once it flattened out it got very slow. Saturday was quite a bit windier."
Demers said the pair only caught one fish after 10 a.m. either day. They used a slow-moving drop shot bait and stuck to one particular area.
"We're going to keep that spot in our back pockets," he said with a laugh.
The duo also won a prize for the biggest fish on Saturday at 5.43 pounds. The largest fish of the tournament was a 5.53-pound whopper landed by the team of Mark Piche and Erick Hodgins on Friday.
The team of Ken Robinson and Paul Bryn finished second at 41.24 pounds and Jeff Gibson and Dan Mason (leaders after the first day) were third at 40.10 pounds.
For a full list of results, visit our website at chathamvoice.ca.
Committee member Tom Beaton was pleased with the success of the tournament.
"We more than doubled the number of teams last year, we have great sponsorship, starting with Canadian Tire and we're on our way up," he said.
A total of 337 fish were weighed with a total weight of 1098 pounds. Only two fish died during the event.
Carol Anne Belanger, also a member of the organizing group, said she had several potential sponsors approach her during the tournament.
"This is such a community event, we have a great organizing group and volunteers from right across the area," she said. "It's a tribute to their hard work that this event is what it is."
Comments
comments