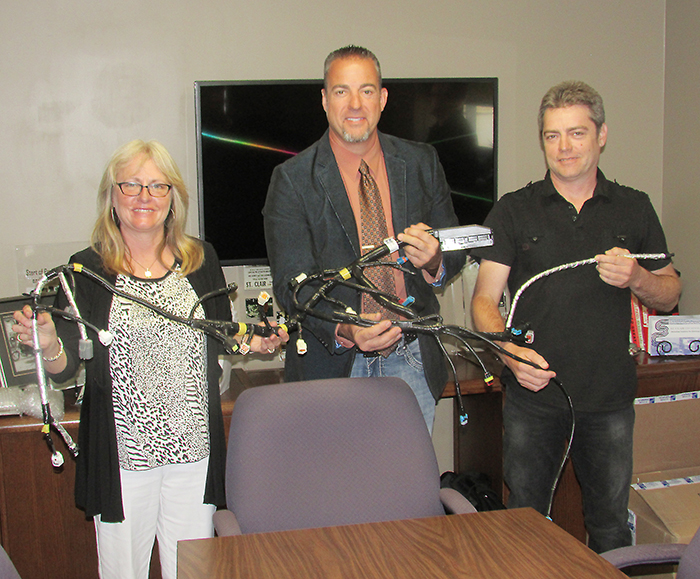 A commitment to constant evolution and a belief that its employees are its strength are the reasons behind the success of St. Clair Technologies according to President Charlie Hess.
Current and former employees gathered at the firm's Wallaceburg head office last week to celebrate its 65th anniversary.
Hess, the third generation of his family to lead the business, said although the firm has an office in Arizona and a manufacturing facility in Sonora, Mexico, Wallaceburg remains home.
"The strength of our company is the people who have been with us a long time," he said. "We have very knowledgeable people who know their products."
The company, which designs and manufactures electric wiring harnesses primarily for the automotive industry, is approaching annual sales of $100 million and has 1,000 employees.
It was founded as St. Clair Tool and Die but gradually moved into the wiring business. It changed its name to St. Clair Technologies in 1996.
At one time it employed more than 500 manufacturing employees in Wallaceburg, however, that portion of the business moved to Mexico as part of NAFTA (North American Free Trade Act) 20 years ago.
"Competitive pressures drove the business there," he said.
The Wallaceburg office has 18 employees who handle research, design and costing of products as well as information technology services and accounting.
Hess said he sees a bright future for the business as vehicles continue to become more electronically sophisticated.
"The more things become electronic, the more we need to connect. It's more content."
In addition to the automotive sector that accounts for half the firm's sales, it has branched out into wiring for marine use, trucks, buses and recently, the aerospace industry.
"If it's a rolling vehicle, we wire it," he said.
Hess said the company's approach to what he called "proactive value added engineering exercises" means it is constantly refining its processes to save its customers money.
Chatham-Kent economic development officer Geoff Wright said St. Clair's highly qualified personnel makes it a model firm which is held in high regard.
Coun. Carmen McGregor said St. Clair occupies a unique place in the community due to its local roots and longevity.

Comments
comments